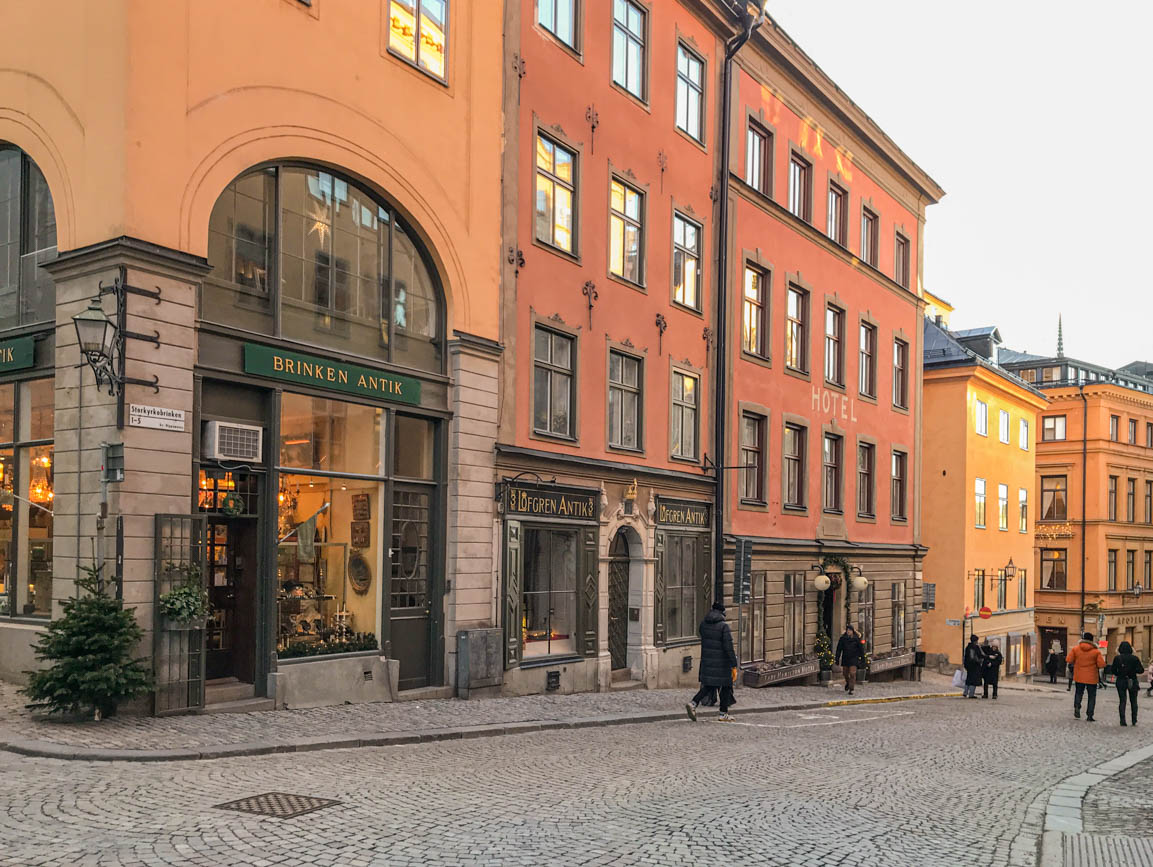 Stockholm travel guide (+ map)
Stockholm is the capital of Sweden and also one of the trendiest Nordic cities. If you're looking for cool vibes, plenty of sightseeing spots and lush nature, you came to the right place. In this travel guide, I'll walk you through everything you need to know when visiting Stockholm, from what to see and do to where to eat and sleep. At the end of this post, you'll also find a map with all the spots mentioned here for your ease of reference. Enjoy!
Everything you need to know about Stockholm (and Sweden)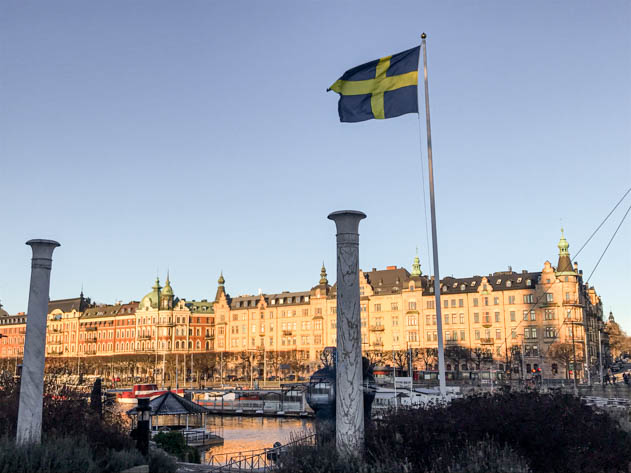 Before traveling to Stockholm, there are some things you should be aware of.
The capital (and the country for that matter) is expensive. If you're looking for a cheap destination, I'm sorry to say this might not be it, although there are ways around it (see section below 'How to travel on the cheap in Stockholm').
Sweden is located in Europe and belongs to the European Union, but Swedes kept their own currency (the Swedish 'krona', shortened as 'kr') and don't use the euro. When I visited, 10 kr were more or less equal to 1 eur. Feel free to check the current exchange rate here.
The country has a constitutional monarchy, just like Spain or Belgium. Carl XVI Gustaf has reigned in Sweden since 1973.
Luckily for us tourists, Swedes speak great English even though their official language is Swedish. That means you shouldn't have problems whenever you need to communicate (if you speak English of course :)).
In terms of COVID, when I visited Stockholm, there were no restrictions to enter the country (no one asked for my COVID certificate or a PCR negative test). But what surprised me the most was that most people didn't wear a mask, even in crowded places such as department stores with people doing their Christmas shopping.
For more information about Sweden, check my destination page.
What to see and do in Stockholm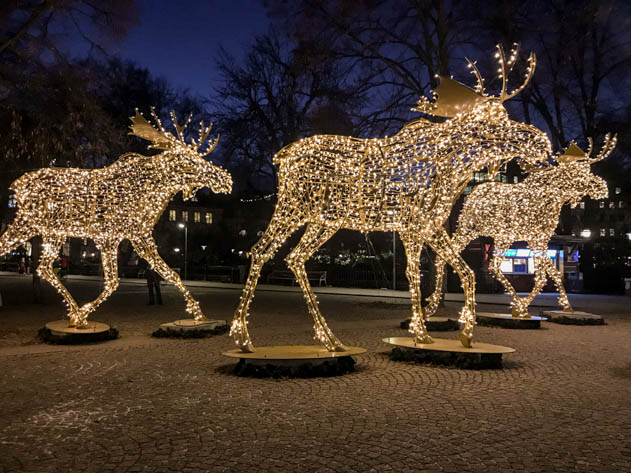 Stockholm is built on 14 islands connected by 58 bridges, so water and nature are all around. Given the proximity of the Baltic Sea and Lake Mälaren, the city is filled with waterside promenades, canals and spacious parks.
This section is split by neighborhood so you can easily find what to see depending on the area you're in. The main sightseeing areas in Stockholm are the following:
Gamla Stan: this is Stockholm's charming Old Town
Kungsholmen: housing the City Hall, this island is quite residential
Nörrmalm: the northern part of the city encompasses the modern and commercial districts of the capital
Östermalm: this elegant area east of Stockholm houses design boutiques as well as exclusive bars and restaurants
Södermalm: this southern part of town is known for its bohemian and hipster touch
Djurgården: welcome to paradise for nature and culture lovers!
At the end of this section, you'll find a suggested itinerary + a map with all the locations (sightseeing spots, restaurants, hotels, etc) mentioned throughout this post.
What to see and do in Gamla Stan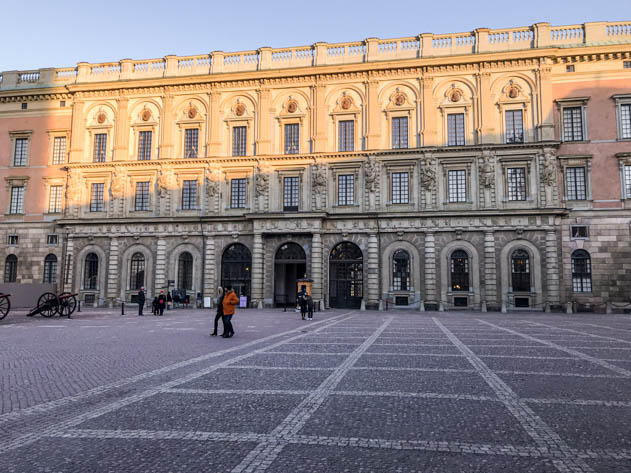 In a nutshell, Gamla Stan (literally meaning the Old Town in Swedish) is the heart of the Old City of Stockholm, concentrating most of the sightseeing spots in town.
This island is connected to other parts of the city through various bridges, including Vasabron, Norrbro, Strömbron, Slussbron, Söderströmsbron, Norra and Södra Järnvägsbron, Centralbron and Riddarholmsbron.
Enjoy walking around around Gamla Stan's colorful and cobbled streets, the main ones being Västerlånggatan and Stora Nygatan.
Some of the attractions you can't miss in Stockholm's Old Town include Kungliga Slottet (the Royal Palace; make sure to be there around noon to see the changing of the guard or visit the Royal Gift Shop), Stortorget (the main square surrounded by pictoresque houses, a must during the Christmas season), beautiful churches such as Storkyrkan or Tyska kirkan or the Nobel Prize Museum.
From the Old Town, I would also suggest you explore the nearby islands of Riddarholmen and Helgeandsholmen. While in the first one you'll be able to admire the church of Riddarholmskyrkan and the view of Stadshuset (City Hall) across Kungsholmen, the second island hosts the Riksdaghuset (the Swedish Parliament).
For restaurants in Gamla Stan and other areas of the city, head to the section 'Where to eat in Stockholm'.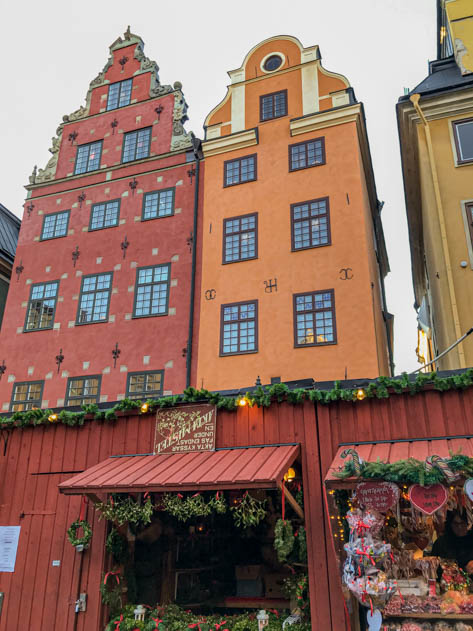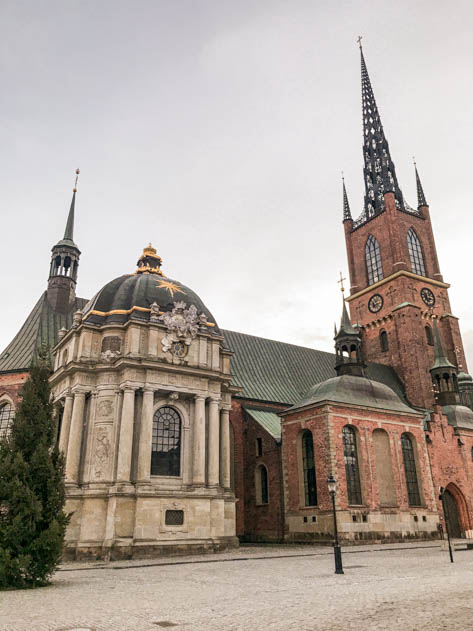 What to see and do in Kungsholmen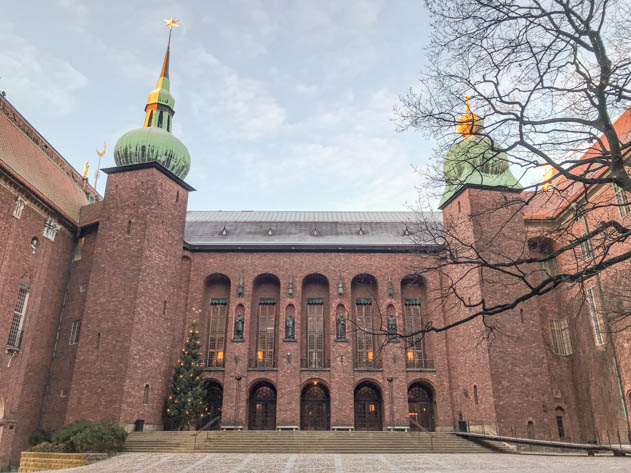 Located west of Gamla Stan, this island houses the imposing Stadshuset (City Hall). This brick building is the main feature of this area of Stockholm. One of the suggested activities is to enjoy the panoramic view from the City Hall Tower (typically open from May to September). However, due to COVID-19, the tower has been closed for the past two years and it is unclear when it will reopen.
Another highlight includes walking along Norr Mälarstrand, a promenade by the water with stunning views of Södermalm.
I read there are many ethnic restaurants worth trying in the junction of Schleegatan and Hantverkargatan. Head to 'Where to eat in Stockholm' for a list of the cafés and restaurants I visited during my trip to this Swedish city.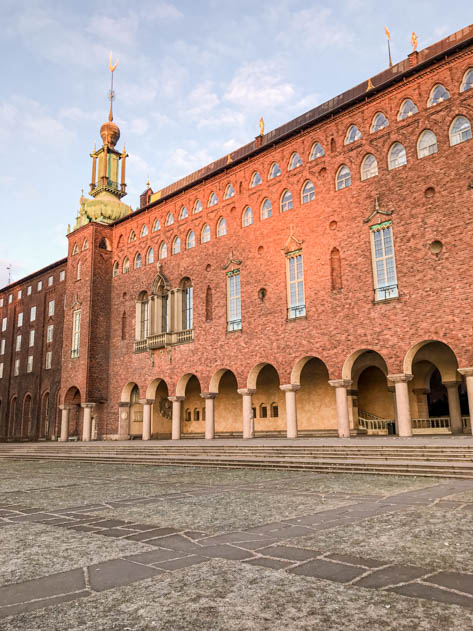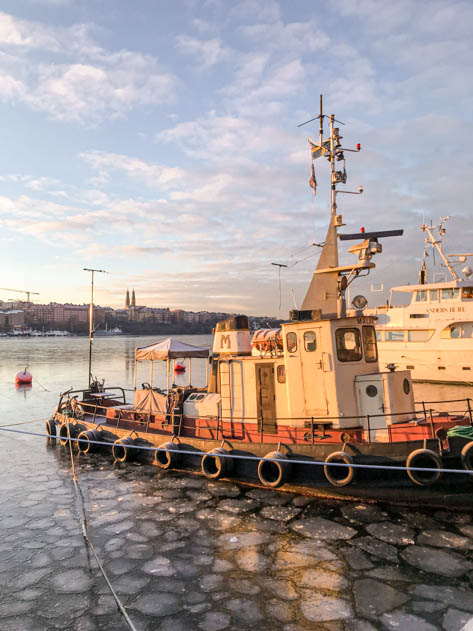 What to see and do in Nörrmalm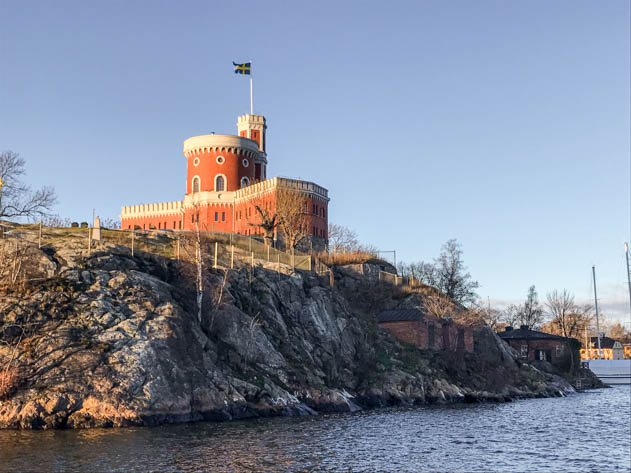 Lying in the northen part of Stockholm, Nörrmalm houses the modern and commercial areas in town.
In case you're looking for Swedish shopping, head to department stores such as NK or Ahlens, both located near Sergels Torg, a major square steps away from T-Centralen. In case you're looking for fast fashion, you can visit H&M along Drottninggatan.
Nörrmalm is also Stockholm's cultural hub thanks to Kungliga Operan (the Royal Opera), Dramaten (a theater) or the National Museum.
For beautiful views of the city by the water, make sure to walk along Strömgatan and Nybrokajen. You may also want to check the park Kungsträdgården.
Last but not least, from Nörrmalm you can board on a boat or just cross the Skeppsholmsbron bridge towards the islands of Skeppsholmen and Kastellholmen. The latter houses the historic castle known as Kastellet.
What to see and do in Östermalm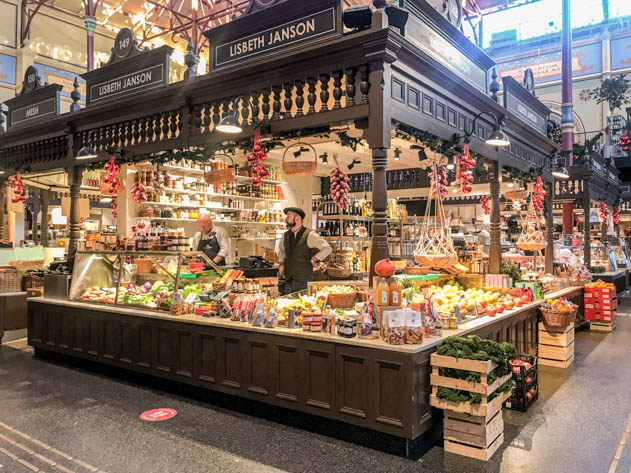 The area of Östermalm, situated in the eastern part of Stockholm, is known for its elegance.
Some of the features you can't miss when exploring this area include: Kungliga Biblioteket (the National Library of Sweden) in Humlegården, Svampen (a curious mushroom-shaped structure said to protect locals from the inclement weather), the Östermalms Saluhall with a vast array of delicious foodie stalls or the beautiful Hedvig Eleonora kyrka. Other places worth checking out are the Armémuseum (a military museum), Kungliga Hovstallet (the Royal Stables) and of course, the monumental boulevard of Strandvågen. This waterfront promenade reminded me of the opulent hotels by lake Léman in Geneva.
If you're in shopping mood, wander around Grev Turegatan, Humlegårdsgatan and Nybrogatan, which concentrate plenty of imposing brick buildings and stylish shops.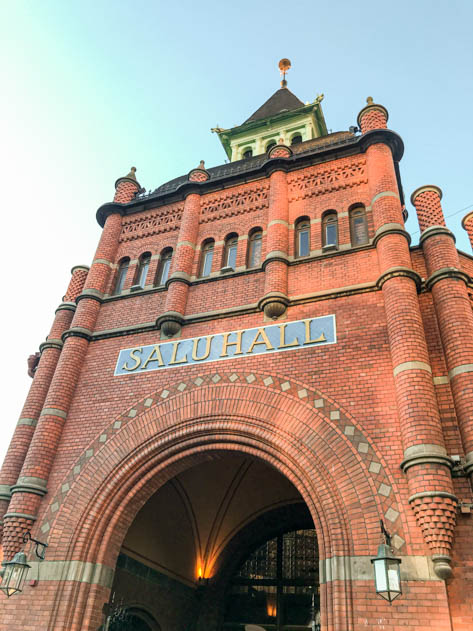 What to see and do in Södermalm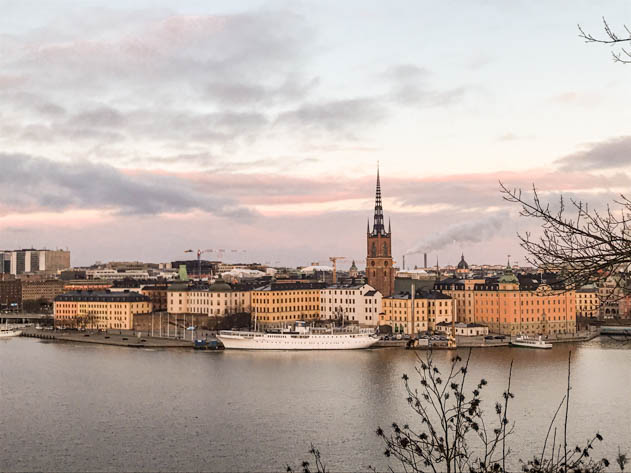 Located in the southern part of Stockholm, Södermalm is the hipster area of the capital. Wandering around its trendy streets such as Götgatan or Slussen, you may want to visit Fotografiska, a museum dedicated to photography and visual art or watch life pass by in Medborgarplatsen. One of my highlights was heading to Monteliusvägen, a 500-meter narrow path on top (and literally on the edge) of Södermalm. Come here for sunrise or sunset to enjoy unforgettable views of the city. Definitely one of the most Instagrammable spots in town!
In case you're looking for cool cafeterias, walk around Mariatorget. You'll find thrift shops such as Red Cross or Stockholms Stadsmission along Hornsgatan. For decoration items, check out Hemtex.
What to see and do in Djurgården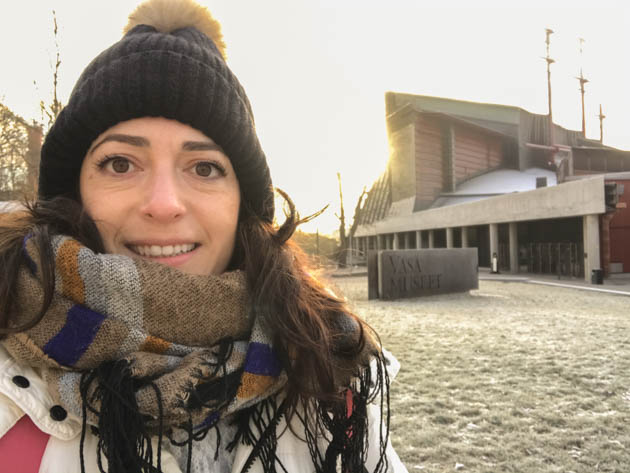 Djurgården is a paradise for nature and outdoor lovers. Located on an island south of Östermalm and connected by bridges and boats, these are the highlights in this area of Stockholm:
Museums: there are plenty to choose from in Djurgården depending on what you feel like. Vasamuseet tells the story of a ship that sank in 1628, Nordiska Museet is dedicated to the cultural history of Sweden and lets you explore the Nordic lifestyle and ABBA the Museum offers an immersive experience into the life of this famous Swedish music band. The most popular museum in Djurgården is Skansen though. This outdoor museum is a hit, especially with kids. Showcasing the country's way of life through its houses and farmsteads, make sure to visit their cute gift shop too. There are many more museums scattered throughout this island such as Spiritmuseum, the Viking Museum, Snus & Match Museum or Biologiska Museet (is part of Skansen and is currently closed) . As you can see, you won't run short of cultural options in the island of Djurgården, so enjoy!
Gröna Lund: this is one of Stockholm's most beloved amusement parks. It features popular rides as well as competitions and concerts. The fun is hence guaranteed for children and adults alike!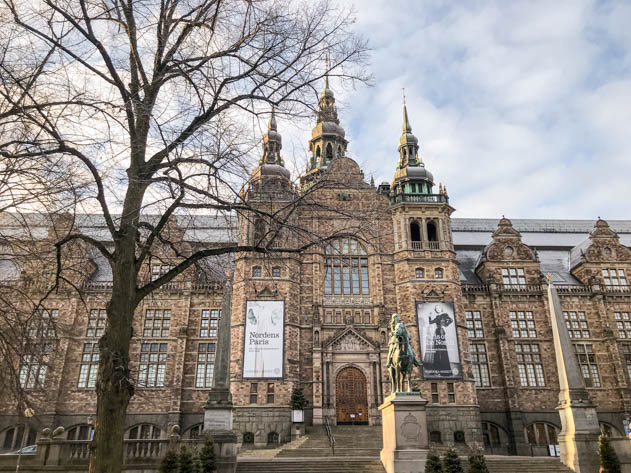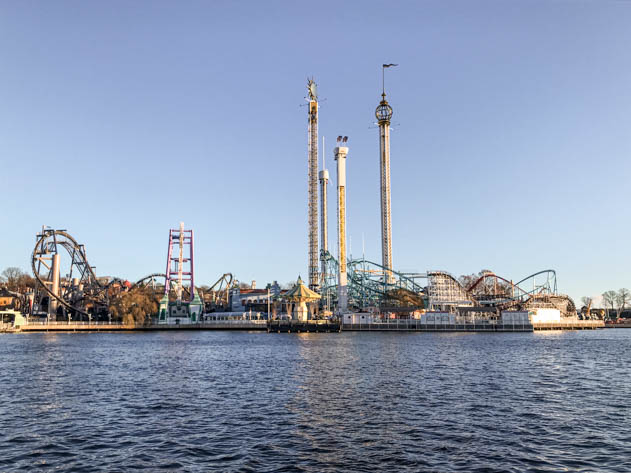 Talking of amusement parks, feel free to check out my post about Disneyland Paris.
Admire the natural beauty of Kungliga Djurgården: these royal gardens occupy almost half of the island of the same name. Starting off in Blå porten (blue door), follow the path next to the water until you reach Rosendalsvägen. A short walk from there, you'll bump into Rosendals Slott, one of the various royal palaces located in Stockholm. Rosendals Trädgårdskafé is a nearby café I can't recommend enough. Read my section 'Where to eat in Stockholm' for more information. Heading south towards Biskopsudden and the museum at Prins Eugens Waldemarsudde, you might see deers if you're lucky enough.
Hop on tram 7: no matter how much you enjoy exploring by foot (which I do), I strongly suggest you come onboard this tramway. Connecting Djurgården Waldemarsudde with T-Centralen (Stockholm's Central Station in Nörrmalm) in just 20 minutes, during this ride you'll be amazed by the serene landscapes in Djurgården and the spectacular Strandvägen. Add this experience to your Stockholm bucket list (bonus point if you're visiting during the cold winter months)!
Other locations near Stockholm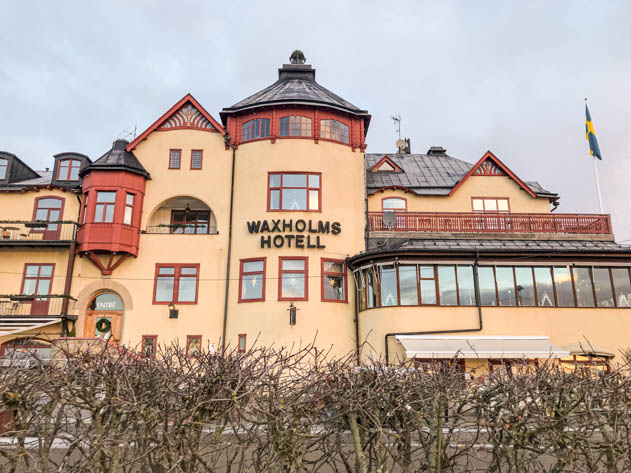 Stockholm is a great destination for a few days, but in case it leaves you wanting for more, here are some other nearby locations you could visit:
Ladugårdsgärdet, simply known as Gärdet, is a vast green area located in the eastern part of the capital. Tessinparken is the biggest park here.
Explore the Royal Palaces of Sweden: in addition to Kungliga Slottet in Gamla Stan, there are many others surrounding Stockholm such as Gripsholm, Drottningholm or Rosersberg.
Discover Stockholm's archipelago: hop on a ferry and enjoy the endless islands surrounding the capital. Vaxholm is a popular destination, but there are many more depending on the time you have at hand or the activities you feel like doing. Read my post on Vaxholm to learn more about this location in Stockholm's archipelago.
Suggested itinerary for 3 days in Stockholm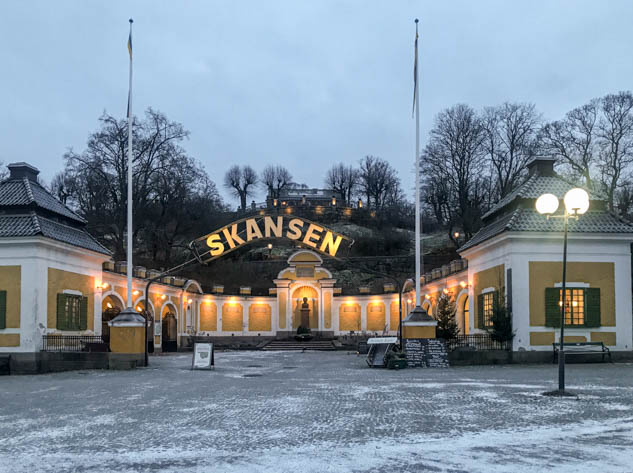 Based on my recent 3-day trip to the Swedish capital, here's my day to day itinerary in case it helps you in the planning. Note: I skipped the museums and preferred to focus on exploring the city by foot.
Day 1: Östermalm + Djurgården + Gamla Stan + Nörrmalm
Day 2: trip to Vaxholm (in Stockholm's archipelago) + Södermalm
Day 3: Kungsholmen + Djurgården + Östermalm
Spoiler alert: I tend to walk a lot, especially when I'm on my own, so feel free to adapt this route to your own pace and depending on how long you're staying. 🙂 👣
How to travel on the cheap in Stockholm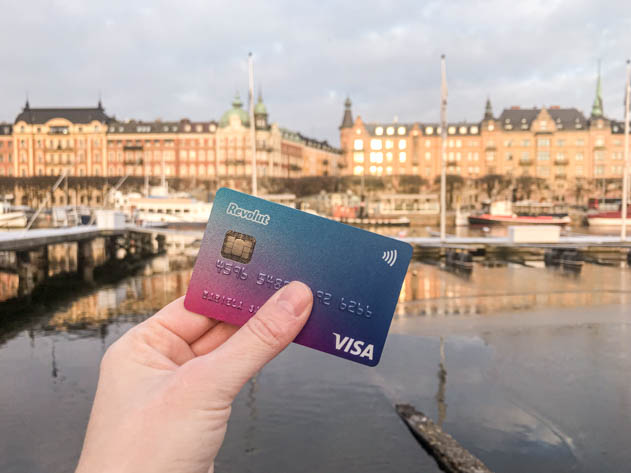 I warned you from the very beginning: Stockholm is a very expensive city. However, that shouldn't prevent you from visiting because there are ways around it. Here are my top tips to travel to the capital on the cheap:
Buy the SL card (the 7-day travel card cost me 415 kr), or even better, download the SL app. This will already save you 20 kr. The card is valid for trains, metro, buses, trams or ferries.
If you're arriving to Arlanda airport, choose the regular train over the Arlanda Express. Even though catching the latter is the fastest option to get to Stockholm, it is also the most expensive (at 579 SEK for a return ticket) and is not included in the SL travel card you may purchase. On the contrary, I suggest you board the regular train: the SL card gives you free access once you've paid the Arlanda passage fee (120 kr for each way).
When eating out, look for dagens rätt (daily plate) at lunch time, which is usually between 100-200kr in all restaurants, including the fancy ones.
In case you own a Revolut Card, use it to pay like a local with excellent exchange rates. This system allows you to pay in the local currency, be it through a card or the app on your phone. I think it's a brilliant idea when you're traveling abroad and don't want to be worried with exchanging money upon arrival or being charged currency fees in your card.
Public transportation options to get around Stockholm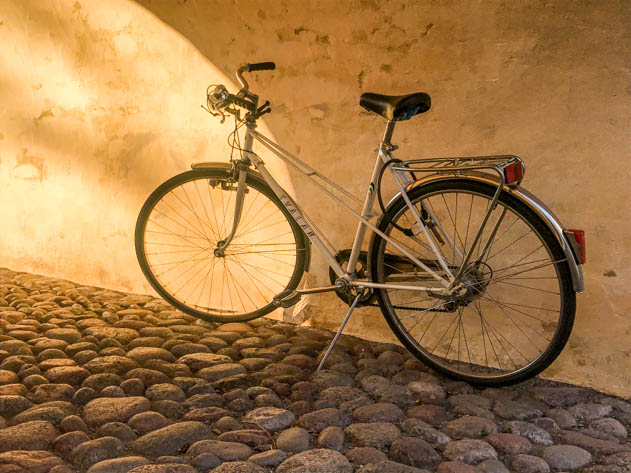 Stockholm is a big city and as such, there are several ways to get here and move around depending on your preferences be they by air, train, bus, metro, bike, boat or foot.
Getting to Stockholm by air
There are three airports in Stockholm:
Arlanda: if you're flying internationally, this is the main airport for reaching the Swedish capital. Located between Stockholm and the city of Uppsala, it is connected to Stockholm through Arlanda Express (although this is the fastest option, it is also the most expensive one) or the regular train (I recommend the latter in case you're not in a rush).
Bromma: it operates mainly for domestic flights and some minor international flights. It is well connected to Stockholm by metro.
Skavsta: located in the south of Stockholm, this airport operates with low-cost companies.
Getting to Stockholm by train
As mentioned before, the quickest route to arrive to Stockholm from the Arlanda airport is by using the Arlanda Express train. Yes, it only takes 18 minutes from Arlanda to Stockholm C (the capital's Central Station) but the round trip is awfully pricey (it costs 579 SEK, almost 60 EUR). On the other hand, the regular train will get you to your destination in 40 minutes for a fraction of the cost.
In addition to the train, Tunnelbana (metro) is a great way to explore Stockholm. Check out the various ticket prices here. Besides, did you know there is some serious underground art here? T-Centralen, Stadion, Solna Centrum, Tensta or Hallonbergen are a few metro stations you should definitely check out while you're visiting the Swedish capital. By the way, you might notice that the public transportation system in Stockholm is pretty modern. I saw USB chargers and plugs on both trains and buses, which I found really helpful when you're on the go.
If you purchased a travel card, take advantage of it by hopping into tram 7 that connects T-Centralen (the central station in Stockholm) with Waldemarsudde in Djurgården in just 20 minutes. Along this ride you'll pass by some iconic sightseeing spots in the capital, so grab your seat and enjoy.
Getting around Stockholm by boat
Since Stockholm is built on 14 islands, it shouldn't come as a surprise that boarding a boat is just another way of getting around the city. Ferry rides are included in your SL card if you purchased one, and I'd recommend you to take advantage of it. During my visit, I boarded ferry 82 in the amusement park in Gröna Lund and went all the way to Slussen in Gamla Stan. It was a beautiful way to explore the city despite the freezing temperatures. You can check the maps of the commuter ferry lines here.
Where to eat in Stockholm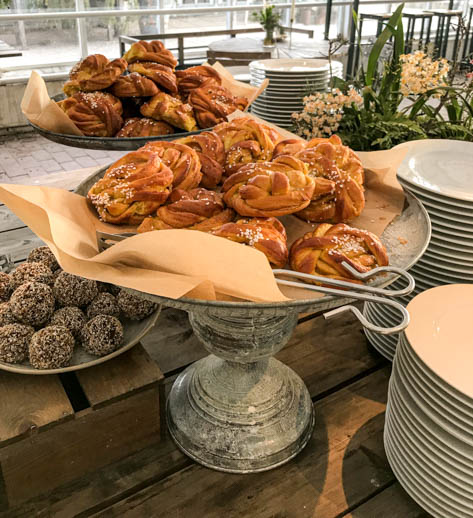 Below is a selection of the restaurants and cafés I tried during my 3-day trip to the Swedish capital. Of course there are many more places where to eat in Stockholm, but time constraint was real. All the spots are sorted by area for your ease of reference, and pinned in the map at the end of this post.
Grillska Huset (Gamla Stan): memorable first lunch in Stockholm, steps away from the iconic Stortorget. Functioning as a social enterprise to offer a brighter future for those in need, this place includes a café, restaurant, bakery and bread shop. I ordered a tomato and pepper soup (perfect for warming up) and a grilled croque monsieur (with a bit too much mustard in my opinion). Grillska Huset is definitely a perfect location for Swedish fika because you have free coffee refill. 🙂
Under Kastanjen (Gamla Stan): located in a narrow street in Stockholm's Old Town, this restaurant serves traditional Swedish food. I went for the most typical option on the menu: köttbullar (meatballs) with mashed potatoes, cream gravy, pickled cucumber and lingonberries. Under Kastanjen features an outdoor terrace as well as a cellar downstairs.
Stortorget (Gamla Stan): in case you're visiting Stockholm during the Christmas period, trying glögg (mulled wine) with a ginger cookie in the Christmas market within this iconic square is an absolute must. Enjoy!
Rosendals Trädgårdskafé (Djurgården): located in the middle of nature, this was hands down my favorite spot in the Swedish capital. Featuring a garden café along with a woodfired bakery and a lovely gift shop, this greenhouse was my kind of foodie paradise on earth. I ordered lentil soup plus a slice of carrot cake and a cup of tea (did I mention there was free bread with butter too?). This place lived completely up to the hype: the food was both yummy and healthy, the greenhouse was charming and cozy and I could even sit in front of the fireplace. I mean, what else can you ask for when eating out? Trust me, make sure to come here to enjoy the Swedish way of life at its best.
Östermalms Saluhall (Östermalm): this imposing brick building is beautiful from both the outside and the inside. Local traders offer high-quality food to enjoy onsite or to bring home, be it Lebanese mezze or the famous herring sandwiches by Lisa Elmqvist. This food hall has recently been renovated and has also welcomed a neighboring hotel.
Tårtan Café (Södermalm): thanks to a warm cup of Ceylon tea with a cinnamon roll (kanelbulle), this cafeteria quite literally saved me from the extreme cold after a glorious sunset in Monteliusvägen.
In addition to all the cafeterias and restaurants listed above, here are some more recommendations from local friends and colleagues or spotted by myself, which I didn't get to try: Stenugnsbageri Fabrique, Café Saturnus, Nystekt strömming (fast food including herring), Mathias Dahlgreen Matbaren, Tranan, Storstad, Pelikan, Newt, Portal, Babette, Copine, Farang (Thai cuisine), Strandvägen 1 (brunch), Tak and Himlen (rooftop bars).
If they're good and you do visit these places, please let me know in the comments below so I check them out myself next time I'm in Stockholm. Sharing is caring 🙂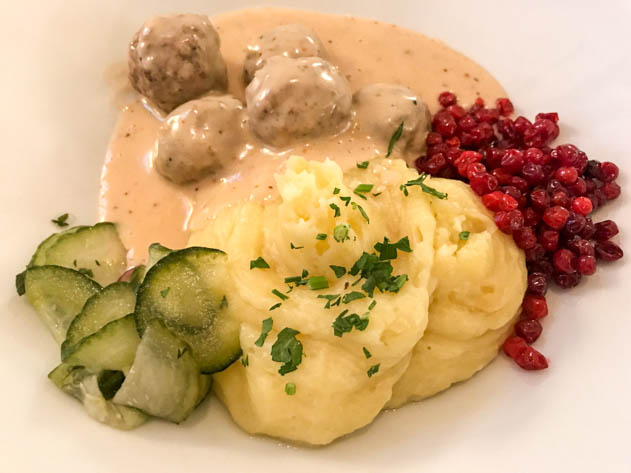 Hungry for more? Browse these eating guides!
Where to sleep in Stockholm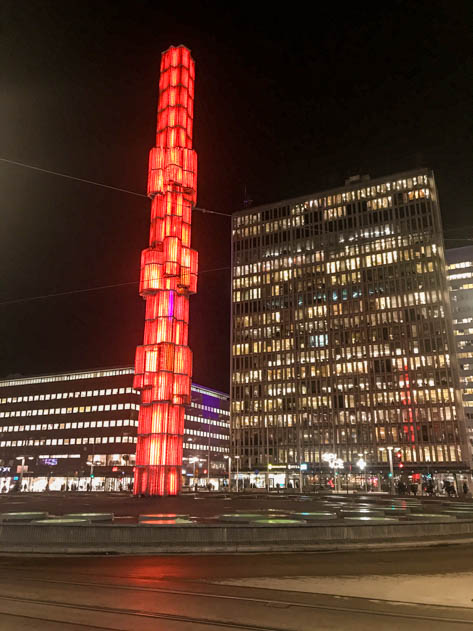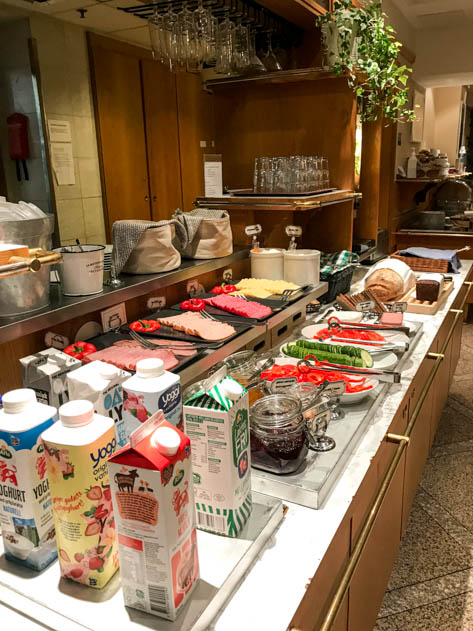 During my stay in the Swedish capital, I slept four nights at Crystal Plaza Hotel. Conveniently located on Birger Jarlsgatan 35, this 3-star hotel lies in the heart of the city center, just a 20 minute walk from the Royal Palace or T-Centralen.
Thanks to some spare miles, I was able to secure a good deal including an economy single room with free breakfast (served in the Ming restaurant downstairs). In my opinion, the decoration was a bit on the old side, but the room was comfortable enough. One of the features that I enjoyed the most after exploring the city was the kettle. I was truly in heaven with a warm cup of tea following a long day venturing out in the cold! The buffet breakfast was decent too: cereal, ham and cheese, pastries, fruit, tea or coffee. Oh, and they will welcome you with ginger cookies, which is a very Swedish (and delicious) thing to do.
For more accommodation options in Stockholm, feel free to check Airbnb or Booking.
Map of Stockholm
Below you'll find a map where I pinned all the locations mentioned throughout this post: sightseeing spots, restaurants, cafés and so on. I trust this is helpful for your next trip, so save it for later!
What's the weather like in Stockholm during the winter?
COLD. Period. Winter is cold in Sweden (between -2C and -8C when I visited, luckily it was sunny and it didn't snow) and days are short. Typically, the sun would rise around 8.30am and come down at 3pm. My suggestion would be that you make the most out of the daylight and explore during those hours.
In the weeks leading up to Christmas, you will notice candlesticks and star-shaped lamps by the windows, which bring plenty of light to the dark and cold winter months in Sweden.
To keep you warm during your stay in Stockholm, make sure to pack these items:
Trip preparation & inspiration
I had visited Stockholm as a teenager with my family in the summer of 2003, so I already had a general idea about the city. However, I also enjoy planning in advance.
In order to do so, I used the following:
Stockholm pocket guide by Lonely Planet: it will be your best friend when planning your trip to the Swedish capital. If you're traveling to Sweden anytime soon, this guide will walk you through everything you need to know regarding sightseeing spots, restaurant or hotels!
Instagram (IG): I find this platform is great for inspiration and planning purposes. Before heading to Stockholm, these were the accounts I checked:
This pocket guide for Stockholm from Lonely Planet will be your best friend when planning your trip. If you're traveling to Sweden anytime soon, this guide will walk you through everything you need to know regarding sightseeing spots, restaurant or hotels!
This style guide for Stockholm focuses on the three basics whenever you travel to a destination: eat, sleep, shop.
This travel guide from DK Eyewitness is updated every year in order to share all that Sweden has to offer.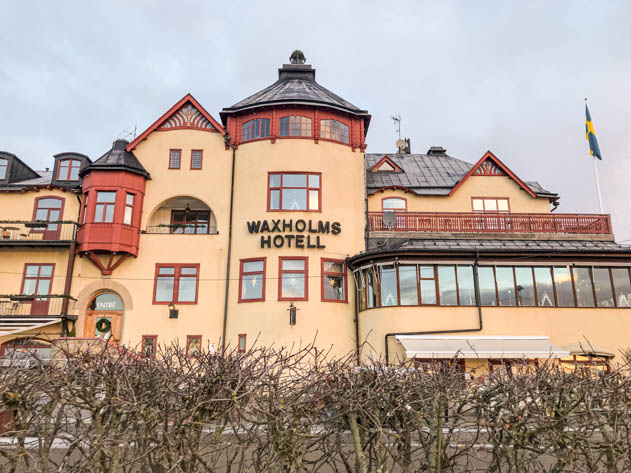 Looking for more Nordic destinations inspo? Browse my related posts here:
How did you like this Stockholm travel guide? Was it helpful? Let me know in the comments below.