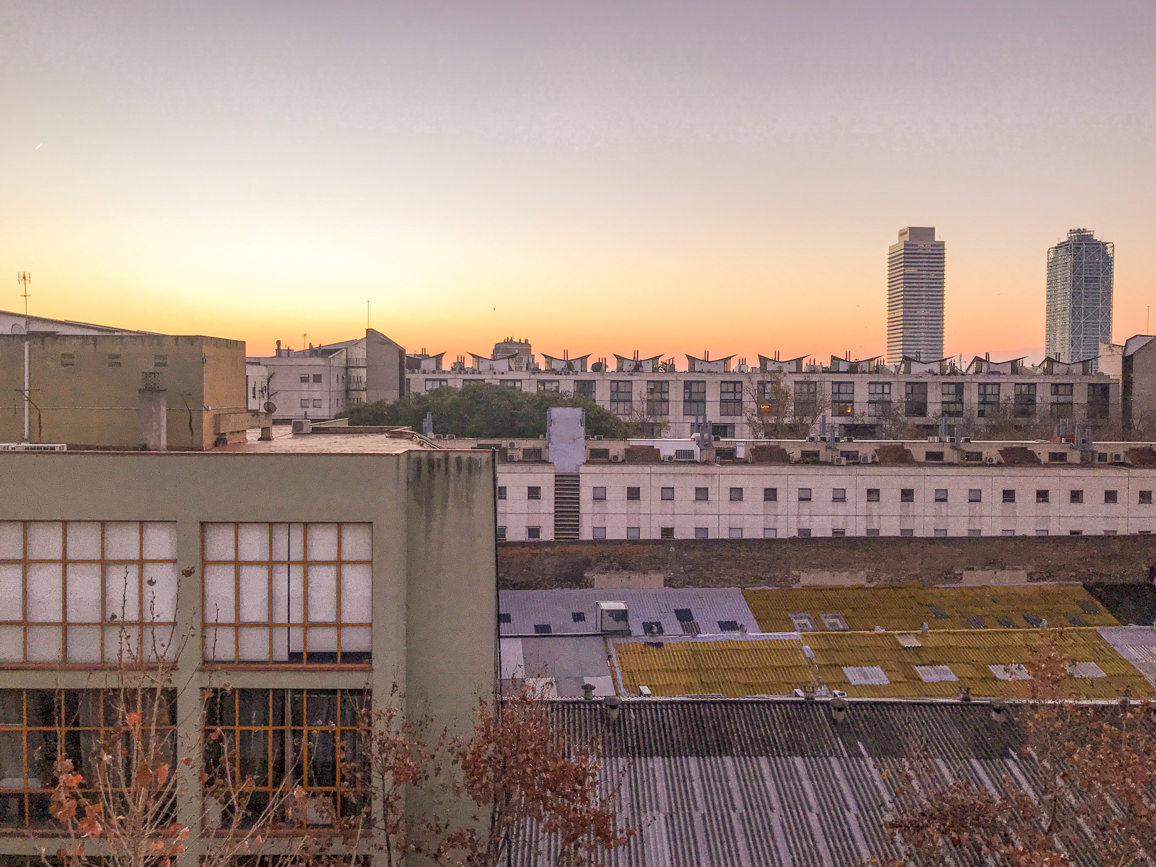 Barcelona travel guide
Barcelona is the second largest city in Spain, right after Madrid. With over 1.5 million inhabitants, it is the capital of Cataluña, a northeastern region located by the Mediterranean Sea but also bordering on France. Barcelona is one of the most popular options when visiting the country thanks to its touristic attractions, its mild climate and its delicious food. Read this Barcelona travel guide to learn more about what to see and do, where to eat and sleep and much more.
Welcome to Barcelona! Also simply known as 'Barna' or 'la Ciudad Condal', the city offers endless options for travelers from all corners of the world.
Below are some of the essentials that you should see and do.
What to see and do in Barcelona
Barcelona is a big city with plenty of things to see and do. Where to start with all the sightseeing? For your ease of reference, I've broken down the content by category so you can jump to the section that sounds more appealing to you.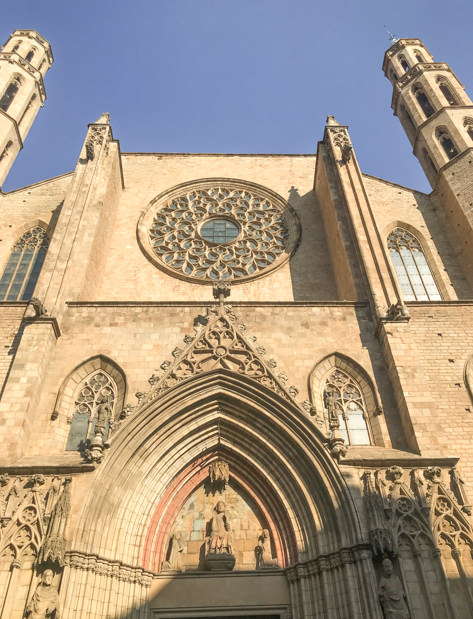 Discover the fascinating architecture
One of the many highlights of Barcelona is its architecture, ranging from Gothic temples to modernist buildings.
Gothic buildings in Barcelona
Gothic architecture was prevalent in Europe from the mid-12th to the 16th century. Some of the best examples of this style in the city can be seen by wondering around the Barri Gòtic (Gothic neighborhood) and include the Cathedral of Barcelona, built between 1298 and 1460, or the Basílica de Santa Maria del Pi. Close to the Port Vell lies Basílica de Santa Maria del Mar, featuring as the best illustration of the Catalan Gothic architecture.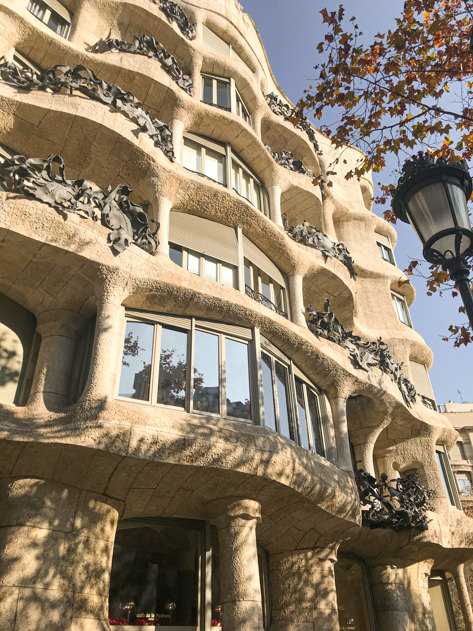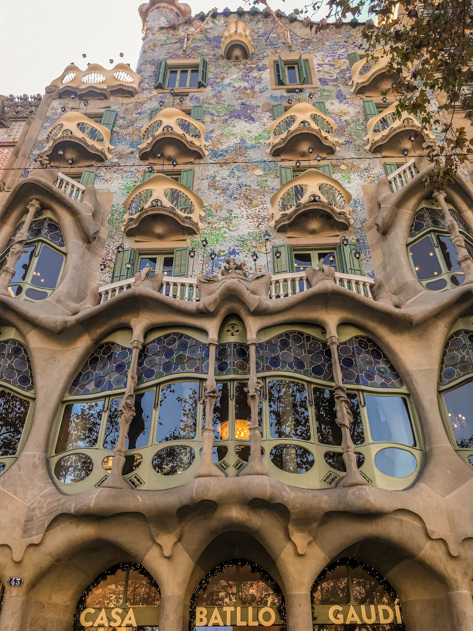 Modernist architecture
Emerging in the early 20th century, modernism rejected ornament and embraced minimalism. In Barcelona, modernist architecture reached perfection thanks to talented architects such as Antoni Gaudí, Josep Puig i Cadafalch or Lluís Domènech i Montaner.
These are the modernist buildings you shouldn't miss in Barcelona: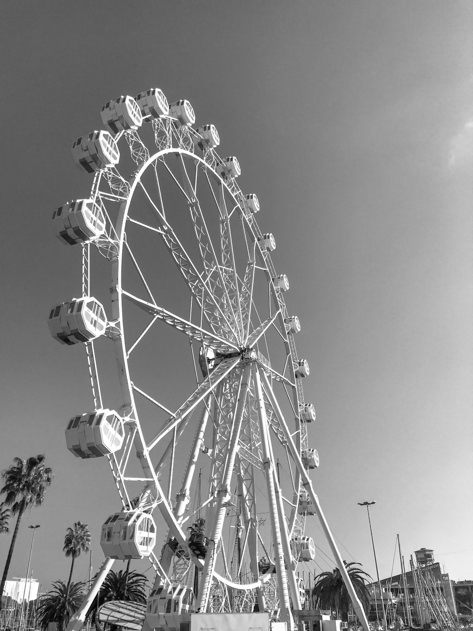 Enjoy the various beaches Barcelona has to offer
Located by the Mediterranean Sea, Barcelona is a city with a mild climate even in winter, making it the perfect destination to enjoy the beach almost all year long.
The good news is that the beaches are only a few steps away here. Try the following to enjoy Barcelona like a local: platja de la Nova Icària (urban beach after the Port Olímpic), platja del Somorrostro or platja de la Barceloneta (ideal for families).
If you're looking for more tranquil beach spots outside of Barcelona, you can explore Costa Daurada (in Tarragona) or Costa Brava (in Girona).
Explore the quaint neighborhoods
The city of Barcelona offers different atmospheres and options depending on the neighborhood you're visiting. Below is an overview of what you can find in each of them:
Camp Nou, Pedralbes and Sarrià: located in the north east, this area features the stadium of Futbol Club Barcelona (Camp Nou), the exclusive Pedralbes district with its monastery (Museu-Monestir de Pedralbes) and Sarrià. The latter was a village on the outskirts of Barcelona until 1921. Enjoy a peaceful walk around Carrer Major de Sarrià, Plaça de Sarrià, Carrer de Rocaberti or Plaça del Consell de la Vila.
Montjuïc, Poble Sec and Sant Antoni: lying on a hill with a panoramic vista over the harbor and the city of Barcelona, Montjuïc offers various museums (Museu Nacional d' Art de Catalunya or MNAC, Fundació Joan Miró and Caixa Forum), a castle and Olympic facilities from the Summer Olympic Games of Barcelona 1992. On the other hand, the districts of Poble Sec and Sant Antoni are synonymous with paradise for foodie lovers.
Passeig de Gràcia and Eixample: welcome to the land of shopping, modernist gems and mouthwatering bars and restaurants. Explore the shops around the Quadrat d'Or in case you're searching for elegant souvenirs and trendy clothes. If you're here for the sightseeing, the main attractions in this area include Casa Batlló, Casa Miró, Casa Amatller, Casa de les Punxes, Recinte Modernista de Sant Pau or Palau del Baró de Quadras.
El Raval: once a turbulent neighborhood, this area next to the famous Rambla and steps away from the harbor houses the renowned Mercat de la Boqueria. Nowadays, you can also find various contemporary museums (Museu d'Art Contemporani de Barcelona-MACBA), art galleries and the Palau Güell, a mansion designed by Gaudí.
Barceloneta and the beaches: this area of Barcelona lies by the sea and pays tribute to its Mediterranean influence and fishing culture. The major highlights here include l'Aquàrium, Mirador de Colom, Port Olímpic or the cable car connecting Barceloneta and Montjuïc.
La Rambla and Barri Gótic: it encompasses the old town of Barcelona, with heritage from Roman and medieval times to the bustling Rambla, the main pedestrian avenue of the city. Other attractions worth visiting are the Cathedral, Plaça Reial, Palau de la Generalitat or Gran Teatre del Liceu.
La Ribera and Parc de la Ciutadella: throughout this medieval neighborhood you will find the Museo Picasso, Basílica Santa Maria del Mar or the opulent Palau de la Música Catalana. Get lost wandering around the streets of El Born and enjoy delicious tapas in irresistible bars. Enter the Parc de la Ciutadella through the imposing Arc de Triomf and take it easy.
Gràcia and Park Güell: an independent village until 1890, Gràcia is nowadays an eclectic neighborhood popular among young people and hipsters that retains its old charm. The most popular spots in Gràcia include Plaça del Sol, Carrer de Verdi, Plaça de la Vila de Gràcia or Plaça de la Revolució. Around here you'll also find two of Gaudí's works: Park Güell and Casa Vicens. Head to the Carmel bunkers on the Turó de la Rovira hill to enjoy breathtaking views over Barcelona.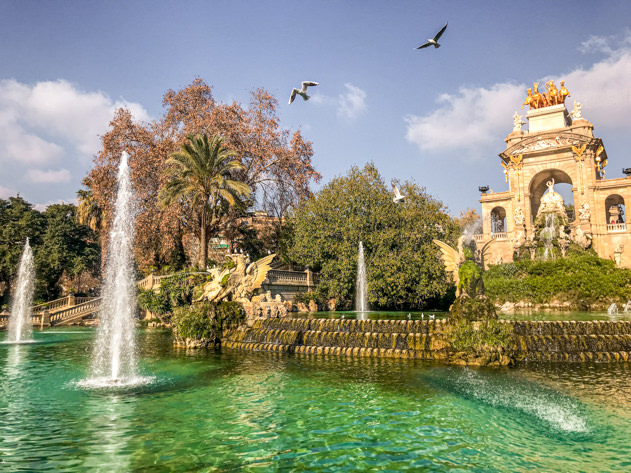 Breathe fresh air in Barcelona´s parks
You can easily get away from the bustling city by taking it easy at some of these parks located throughout Barcelona:
Go off the beaten path
In addition to the most popular attractions of Barcelona mentioned above, you may want to explore other lesser known spots. Here are some suggestions to get you started:
La Model: once a prison known as 'Cárcel La Modelo', this imposing complex inaugurated in 1904 in the middle of the Eixample was recently featured in the Goya-award winning movie 'Modelo 77'. You can book a guided tour or visit it on your own.
Cementerio del Poble Nou: wandering around a cemetery might not be on your immediate bucket list, but some are worth it and this is one of them. Operating since 1819 and originally located way outside of the city walls, you will step back to the 19th century when discovering the monumental graves of important figures from that period. Book a night tour in case you're feeling adventurous!
Umbráculo del Parque de la Ciutadella: located in the popular Ciutadella Park, the iron building housing the Umbracle may go unnoticed. This shade house was built for the 1888 Universal Exposition in Barcelona and features tropical plants such as palm trees or winter jasmines.
Templo de Augusto: back in Roman times Barcelona was known as Barcino. Built in the first century BC, this temple dedicated to emperor Augustus is now home to the Museu d'Història de Barcelona (MUHBA).

Museums in Barcelona
The city of Barcelona is a major cultural hub in Spain, always ahead of the trends. The list is virtually endless, but here's an attempt to list some museums that are worth visiting:
Feel free to check here for more museums in Barcelona.
The abovementioned are the main things that you should see and do in Barcelona. You can of course adjust these according to the length of your stay.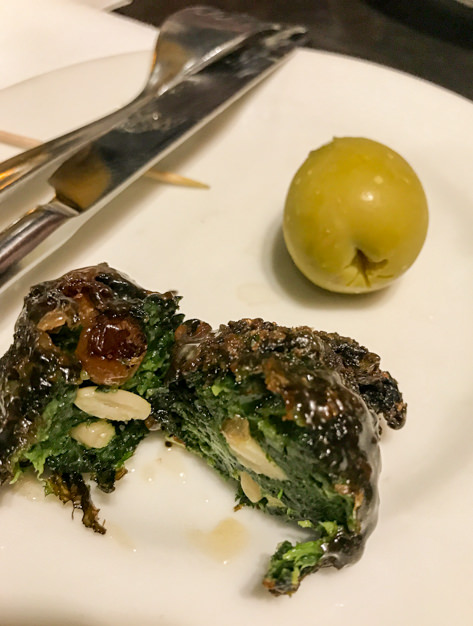 Where to eat in Barcelona
You know I love food and discovering the local specialties in every destination that I visit. Hence, this Barcelona travel guide had to feature a section with the best places to eat in the city.
Typical Catalan cuisine
When it comes to the foodie experience, here are some of the products you should definitely try in the region of Cataluña : pa amb tomàquet (bread with tomato, usually served with garlic), calçots amb salsa romesco (a type of grilled local scallion that comes with a sauce), escalivada (smoky grilled vegetables, typically eggplant, peppers, onions and tomatoes) and butifarra (sausage). In terms of local drinks, cava is the king. This sparkling wine is similar to champagne but is made with grapes from the Penedès area. Cava can be white or rosé.
The traditional Catalan cuisine is known for its 'mar i muntanya' recipes, meaning that it mixes sea and mountain ingredients such as chicken and prawns. Chefs like Ferran Adrià have contributed to putting the new Catalan cuisine (nova cuina catalana) in the global spotlight.
My favorite bars and restaurants in Barcelona
Barcelona is the main city in Catalonia and features countless markets, each with its own charm and specificities. However, Mercado de la Boqueria stands out as the most popular option for locals and visitors alike. Located right off La Rambla, in this market you will find any fresh product that you can think of, be it fish and seafood, poultry and eggs or fruits and vegetables.
As in any cosmopolitan city, the food scene of Barcelona is vibrant and you won't fall short of delicious options. Here are some good bars and restaurants I've tried:
More eating options in Barcelona
In addition to the options mentioned above, these are alternative suggestions depending on your budget:
Where to sleep in Barcelona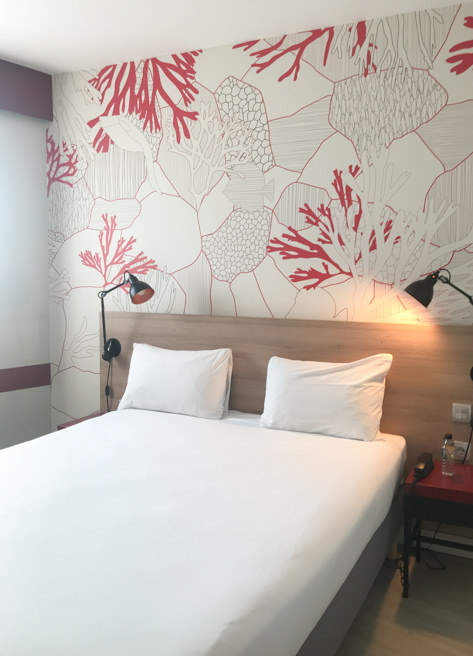 During my most recent stay in Barcelona, I stayed in two hotels located in the city:
Hotel Silken Ramblas: this 4-star hotel is a great option if location is important to you. Given it's uniquely positioned near the famous Ramblas, you'll be steps away from Plaza de Cataluña or the beach in La Barceloneta. I took advantage of a voucher to spend one night at this hotel and I loved the experience. I got a double room, which was very large and featured a modern wide bathroom. The best part was having my own terrace although I didn't get to enjoy it much. The buffest breakfast served by the modernist bar was varied. The hotel features a rooftop with a swimming pool. Unfortunately, it was closed due to the COVID restrictions. All in all, I would certainly come back to hotel Silken Ramblas!
Hotel Ibis Bogatell: conveniently located next to the Bogatell metro station, nearby attractions include the lush Parc de la Ciutadella and the imposing Palau del Parlament. The beaches of Nova Icària and Bogatell are a few steps away too. This hotel is a great option if you're traveling on a budget. I paid 110,20 euros for two nights, including breakfast. The rooms were comfortable, modern and clean. Hotel Ibis rents bikes for clients who feel like going on a pedaling adventure and their facilities feature a swimming pool in the rooftop.
Additional accommodation options in Barcelona
Depending on your budget, here are some alternatives to sleep during your stay in the city of Barcelona:
$ (budget): Pars Tailor's hostel, located in Sant Antoni and featuring vintage vibes.
$$ (medium range): Hotel Market, also in the Sant Antoni neighborhood.
$$$ (luxury): Hotel Mercer, nestled in Barcelona's Gothic Quarter.
Feel free to check additional accommodation options in Barcelona via Booking or Airbnb.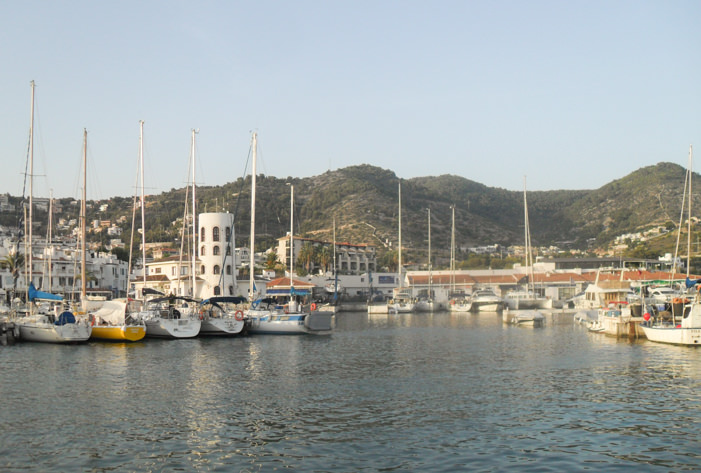 What to see beyond Barcelona
Over the years, I have visited not only Barcelona but its surroundings too given I have some family living there. Below you will find some alternatives to explore around Barcelona:
Sitges: located in the Barcelona province, this coastal town is known for its vibrant gay scene, idyllic beaches and elegant mansions along the promenade.
Abadía de Montserrat: on top of the imposing Montserrat mountain range, you can explore this abbey built in the 11th century. Pilgrims and tourists alike flock to this site to venerate Our Lady of Montserrat, also known as La Moreneta (the dark one) and listen to the prestigious boy's choir. You can reach the top by foot, car, train or cable car. Don't forget to enjoy the view!
Tarragona is the capital of the homonymous Catalan province. Known as Tarraco during the Roman period, the city features numerous ruins such as the Amphitheater, a Paleochristian cemetery and a Roman forum. Further south, you can visit Salou, a popular coastal town housing the Port Aventura amusement park. In case you just want to take it easy, enjoy the beaches along the Costa Daurada.
Gerona (also known as Girona in Catalan) is a town housing over 100.000 inhabitants. Its main attractions include the Cathedral, the Sant Feliu basilica, the Sant Pere de Galligants monastery and the Arab baths. In case you prefer to lay down on a beach, head to the Costa Brava, featuring some charming villages such as Cadaqués, Figueres (the birthplace of Dalí), Tossa de Mar, Begur, Roses or Peratallada.
Visit my Spain page for more inspiring destinations around the country!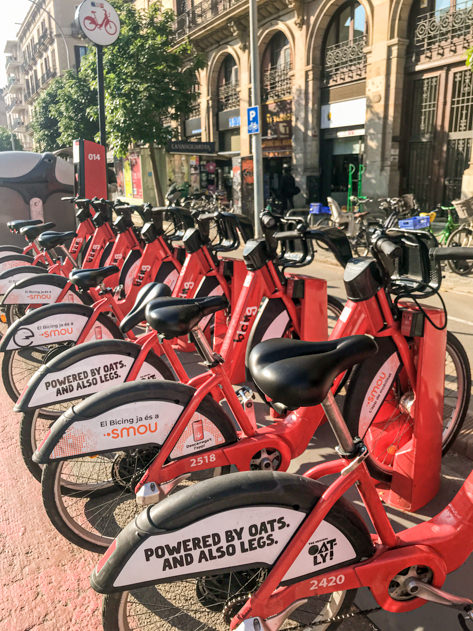 How to get around in Barcelona
Barcelona is a large city, and as such, there are countless ways to get around it. Here's a list with details for the main ones, including tips if you're traveling on the cheap.
By the way, Barcelona has become a very popular destination and many people speak English, but bear in mind that locals here speak Spanish as well as the Catalan language.
Tips to get around in Barcelona on a budget
Upon arrival to the city, I would recommend you to buy an Hola Barcelona travel card for a given period (2,3,4 or 5 days). Not only are these cards cheaper than buying single tickets, they also include all means of transportation (metro, bus including to the airport, tram or train except for the Montjuïc cable car). I definitely recommend them if you're traveling to Barcelona on a budget!
You may also consider looking into these Barcelona card tickets, with numerous discounts and options depending on how you´re traveling (with family, for instance) or what you're interested in visiting (art museums, science, monuments, Modernist architecture).
Airport
Located 15 kms away south west of Barcelona, El Prat airport is the main gate of entry if you're flying to the city. From here, you may hop on a train (Cercanías, línea R2 Norte), metro (línea L9 Sud), bus (there are various lines, including the A1 and A2 Aerobús connecting airport terminals 1 and 2 with Plaça Catalunya), taxi or rent a car.
Bike
A major part of Barcelona is flat, which makes it ideal to ride a bike to cover bigger distances or just because you don't feel like walking. Over the past few years, biking rental companies have mushroomed, the most popular ones being Bicing and Donkey Republic.
Train
The three main train stations in Barcelona are the Estació de Sants, Estació de França and the Estació del Nord. The latter functions as a bus station too.
Bus and metro
TMB is the main transport operator in Catalonia and is responsible for the bus and metro network in Barcelona. Feel free to check on the network map, tickets and fares.
Make sure to buy your Hola Barcelona Travel Card to move around freely around the city for 2,3,4 or 5 days while saving some money.
Car
In case you're driving to Barcelona, you'll need to take the Northeast highway, also known as A-2. It connects Madrid with Barcelona passing through Guadalajara, Zaragoza and Lleida.
Once you get to Barcelona, you may want to look for a public parking.
Taxi
If you feel like taking a taxi ride, you'll recognize them easily: they're black cars with yellow stripes.
In addition to the standard taxis, you can use other options such as Uber, Cabify or Bolt.
Map with my Barcelona locations
Find all the locations mentioned throughout this post in the map below. Feel free to save it for further reference.
How did you like this Barcelona travel guide? Was it helpful? Please let me know your thoughts below.