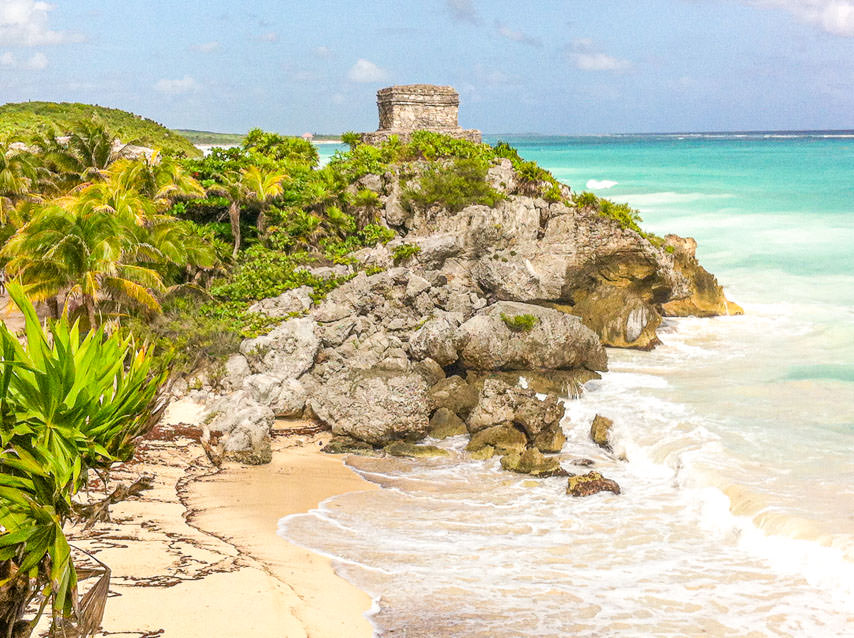 México lindo (III): the Yucatán peninsula
I suppose all the good things come to an end. During the last leg of my trip to Mexico, I visited various spots in the Yucatán peninsula: Cancún, Chichén Itzá and Tulum. Learn all the tips on what to see, how to get there and where to eat in this travel guide.
What to know about the Yucatán peninsula
The Yucatán peninsula separates the Gulf of Mexico from the Caribbean Sea, which encompasses three Mexican states and parts of Belize and Guatemala. In the Caribbean, the strip of resorts in Mexico's Riviera Maya is delimited by two popular destinations: Cancún, with its high hotels and nightlife, and later on the coast, the quiet Tulum, a rare example of the Mayan ruins that are in the interior of the peninsula.
As a solo female traveler, I had no security issues during my stay. I safely took a taxi at the airport, walked on my own at the beach, dined at a restaurant and went on a couple of excursions. Despite the cartel violence in Mexico, the Mexican Government strives to keep Cancún and the whole Yucatán peninsula a touristy (and safe) area. However, watch out for petty crimes in crowded spaces such as nightclubs or commercial streets and use your common sense!
Below you will find a map with all the locations mentioned throughout this post.
Cancún
How to get to Cancún
Given Cancún is a worlwide famous vacation destination, the city has an international airport located 16km away. I flew from Mexico City (see my travel guide on the Mexican capital and Teotihuacán here) to Cancún and arrived there around midnight. You can safely take a taxi at the airport, which will transport you to your accommodation.
Where to stay in Cancún
During my three-night break in Cancún, I stayed at the NYX Hotel. The staff were friendly, especially considering I checked in well past midnight. My hotel room (I booked a standard) was spacious and I really enjoyed the buffet every morning. The room included a queen bed, air-conditioner, a ceiling fan, a flat-screen cable TV and a safe. There was also a coffee maker and a minibar. The private bathroom had free toiletries and a hairdryer.
What I liked the most was that the hotel helped me organize a couple of day trips to both Chichén Itzá and Tulum (see all the details below). Other highlights of the hotel included a spa, a swimming pool and direct access to the beach.
On my last day, the hotel allowed me to leave my luggage there while I visited Tulum before flying back to Washington DC, which was great for peace of mind.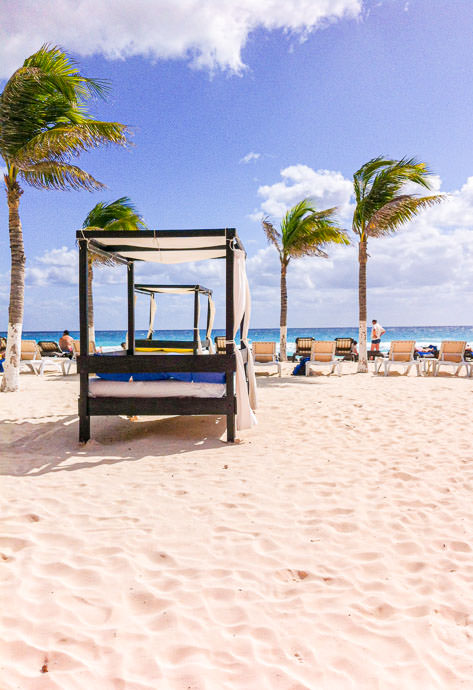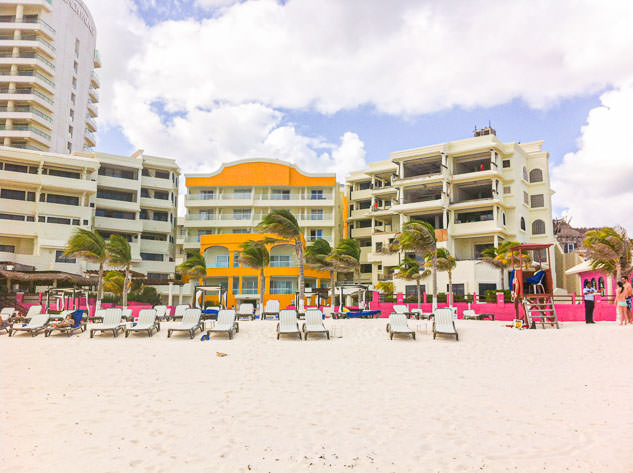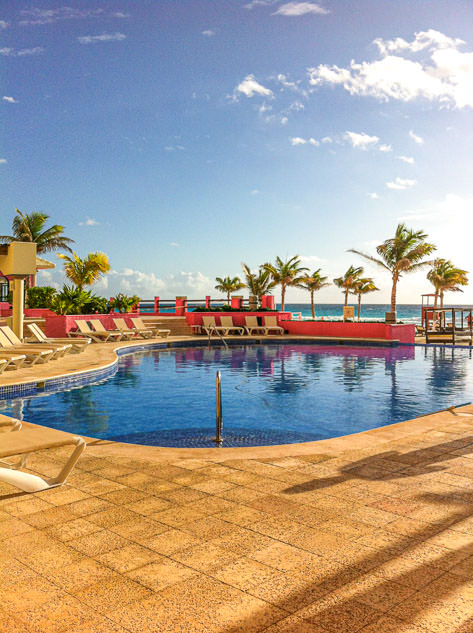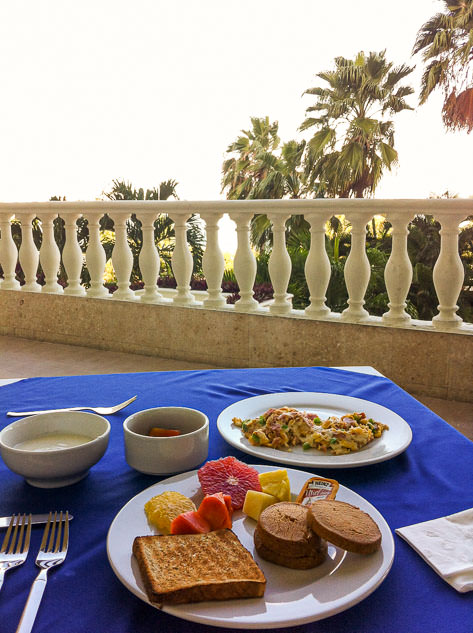 Where to eat in Cancún
Throughout my vacation in Cancún I ate at the NYX Hotel. But during my first evening I decided to indulge myself at a restaurant recommended by the hotel staff. I have to admit it was really spot on! I enjoyed a true feast at the nearby Captain's Cove.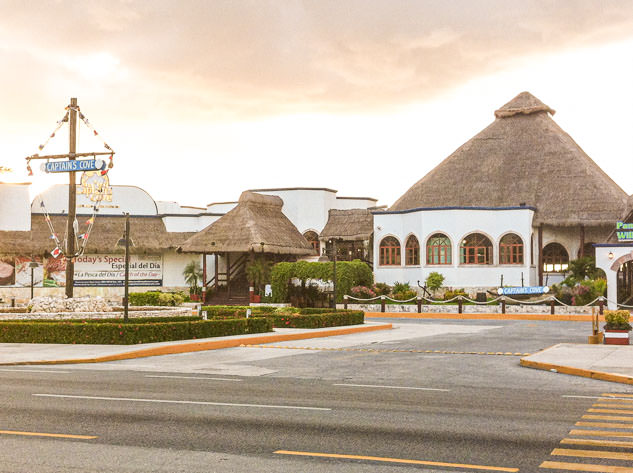 Since I knew it would get dark very early (around 4.30pm-5pm), I headed there for an early dinner and I was actually the first one to arrive. A very friendly waiter took care of me the whole service and I had a table in the outdoor terrace overlooking the lagoon all to myself, from which I enjoyed an insane sunset sipping a passion fruit mojito. Later on followed a delicious bread with herbs and parmesan along with a grilled snapper fillet with rice, garlic sauce and aioli. To wrap it all up, I ordered a tiramisú for dessert. If you're in Cancún, I can't recommend this seafood and steak grill enough!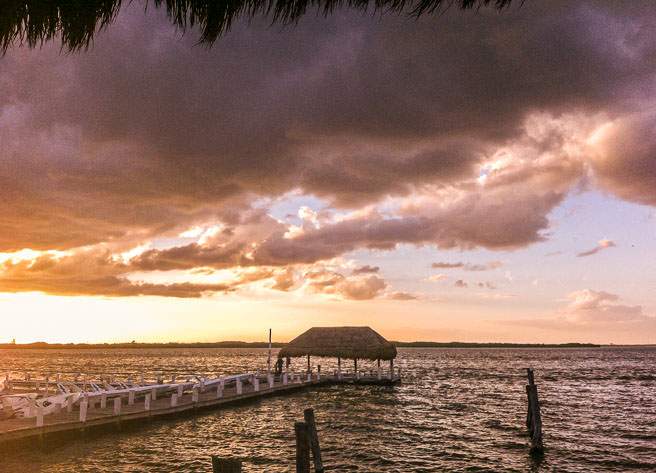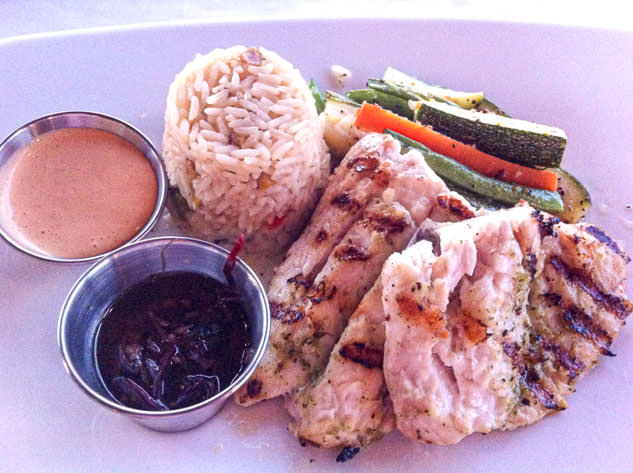 What to see in Cancún
Cancún is the most touristy town in the Mexican Yucatán peninsula thanks to its white-sandy beaches and busy nightlife. The city is made up of two distinct areas: the more traditional downtown area and the Hotel Zone along Kukulcán Boulevard, the coastal strip with tall hotels, nightclubs, shops and restaurants. The good thing is that the Riviera Maya features several archaeological sites with ruins within an hour or two.
To be honest, there isn't much to see in Cancún apart from going to the beach. So, that's what I did during my first day there. I just chilled at the hotel beach, took a quick swim despite the windy weather and walked along the shore and Kukulcán Boulevard. Although it was quite cloudy while I visited, I was pleasantly surprised by the mild temperature (around 25 degrees Celsius). Not as humid and sticky as in Miami! In any case, I enjoyed it to the fullest because I knew it was snowing back home in Washington DC!
Chichén Itzá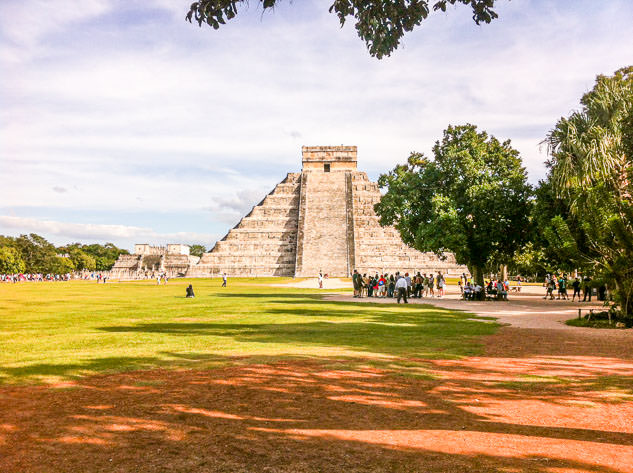 On my way to Chichén Itzá with the bus tour that I arranged through the hotel, we passed by Valladolid and stopped in a Mayan town where locals taught us their customs and sold beautiful handicrafts. We then had a good lunch at the Chilam Balam buffet in Pisté.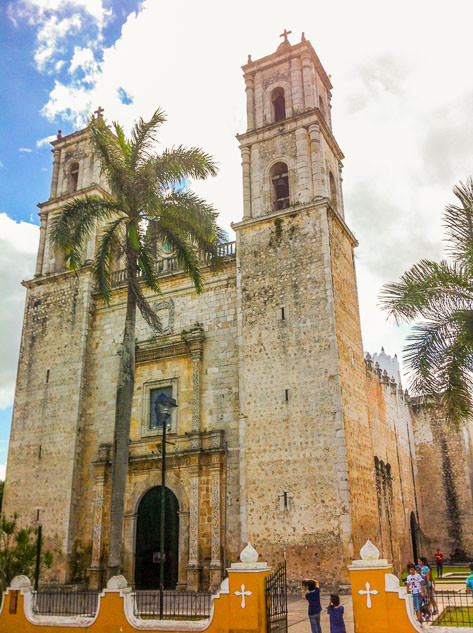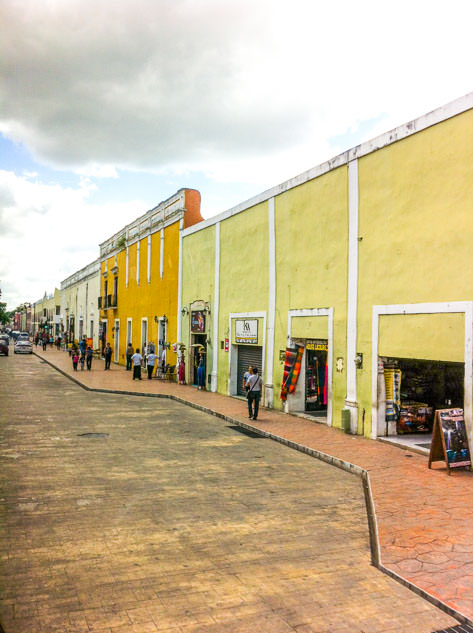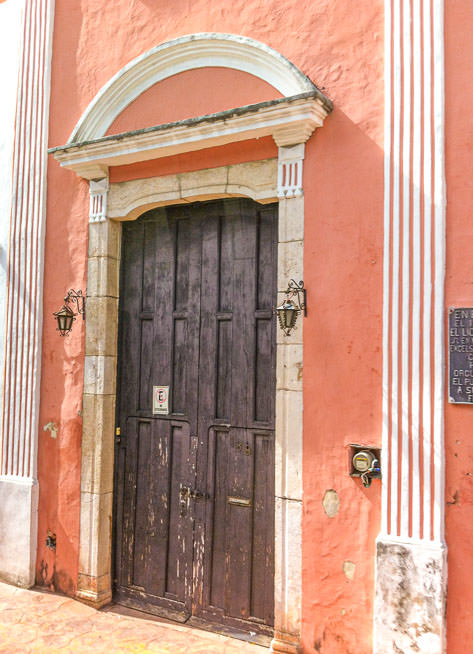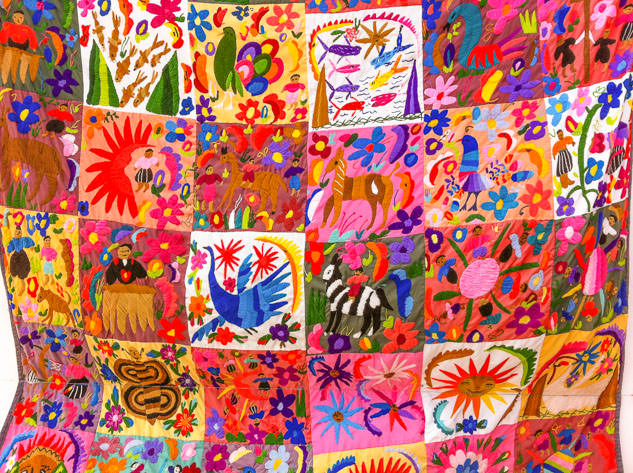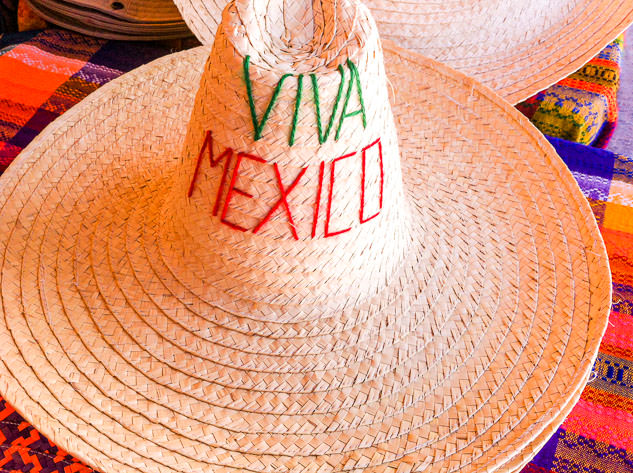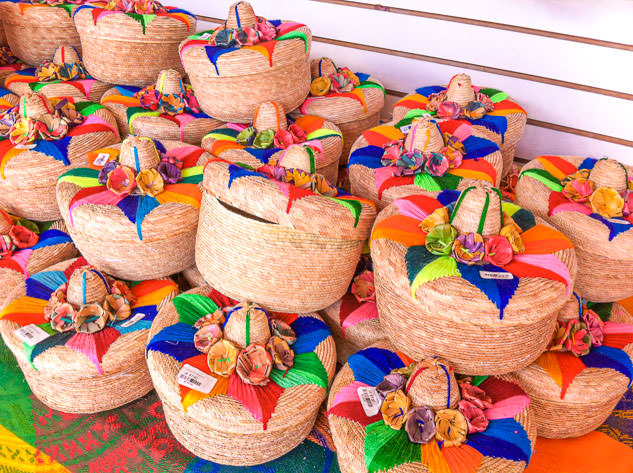 Chichén Itzá is a world famous Mayan ruins complex in Mexico's Yucatán peninsula, located just two hours away from Cancún. An enormous step pyramid, known as El Castillo, dominates the 6.5 square km of the ancient city, which flourished from about AD 600 until the 13th century. Carved stone graphics survive on structures such as the ball court, the Temple of Warriors, the Hall of the Thousand Columns and the Wall of Skulls. The Mayan genius in terms of astrology and architecture blew my mind! At night, light and sound shows illuminate the sophisticated geometry of the buildings.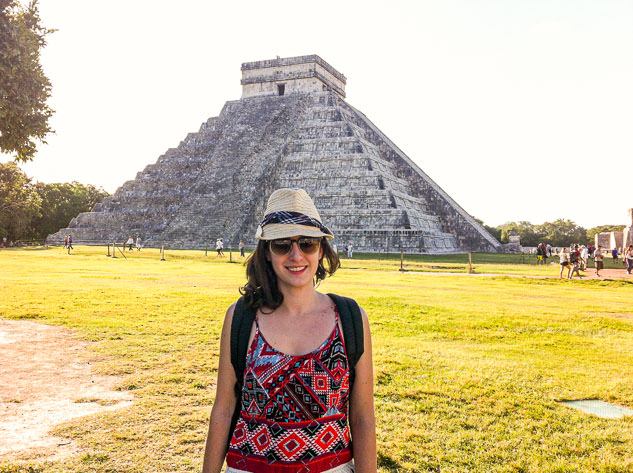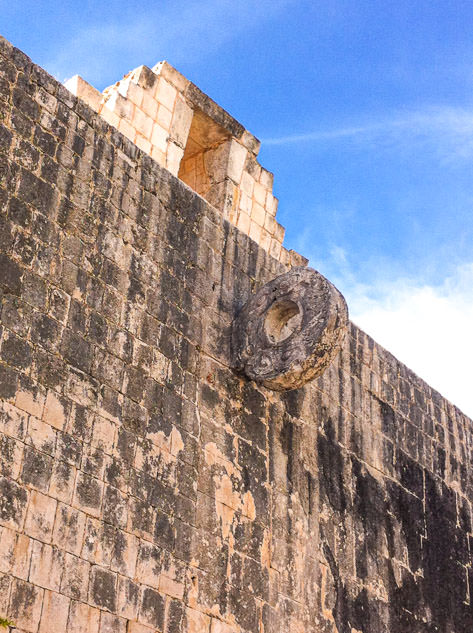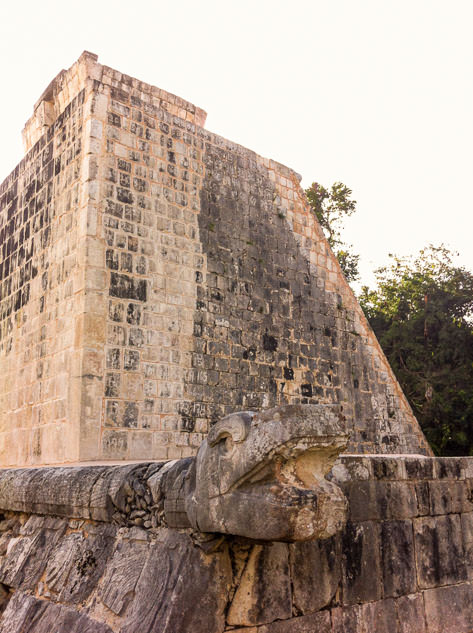 Our last stop of the day trip was at the Cenote X'Cajum, where I could take a quick swim and admire this natural wonder before sunset. In case you were wondering, cenotes are natural pits or sinkholes resulting from the collapse of limestone bedrock that expose groundwater underneath. The term derives from a word used by the low-land Yucatec Maya—ts'onot—to refer to any location with accessible groundwater.
Tulum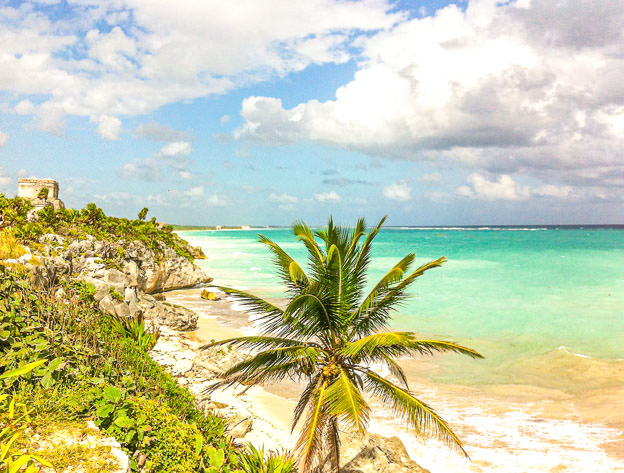 I got to Tulum by bus from the ADO bus station in Cancún (around 1h45).
Tulum is a city on the Yucatán Peninsula, situated south of Cancún. It is known for its well-preserved ruins of an ancient Mayan port. The main building is a large stone structure called El Castillo, which stands on top of a rocky cliff, above the white sand beaches and the turquoise sea. Near the ruins lies the Tulum National Park, a coastal area with mangroves and cenotes.
Those ruins overlooking the Caribbean Sea and surrounded by lush palm trees were one of the most beautiful sights I've ever seen!
In Tulum I found the earthly paradise even though I couldn't enjoy a quick swim at the beach (the water was rough, it was quite cloudy and I had to fly back to Washington DC later in the afternoon)!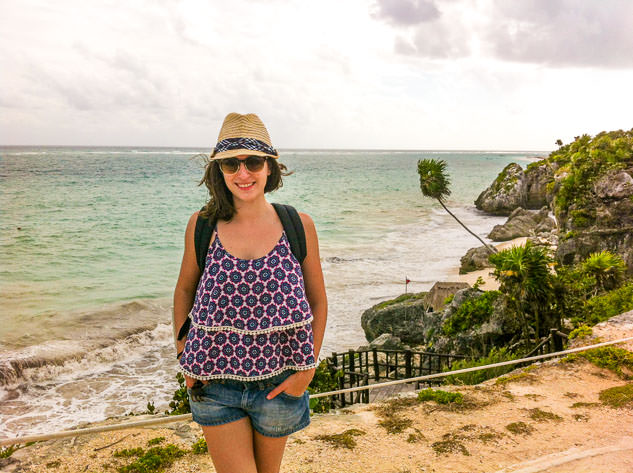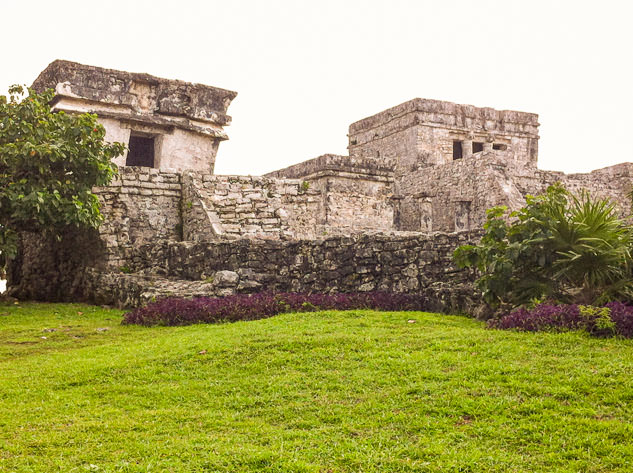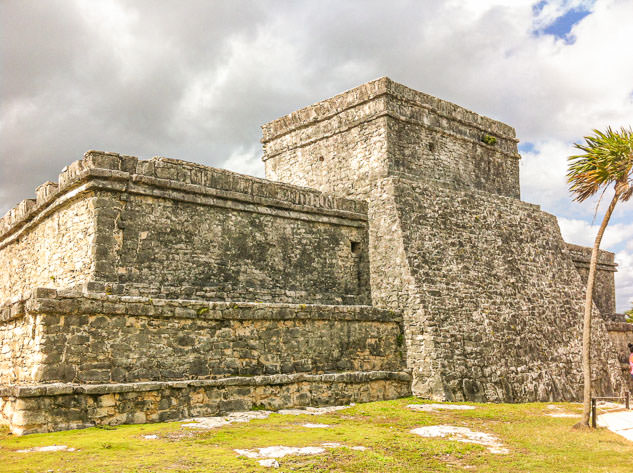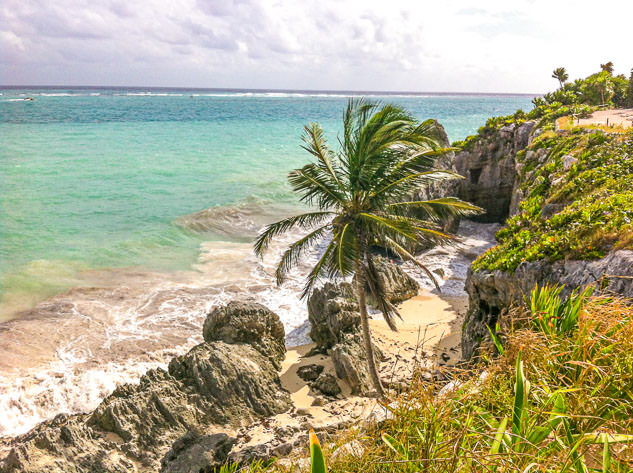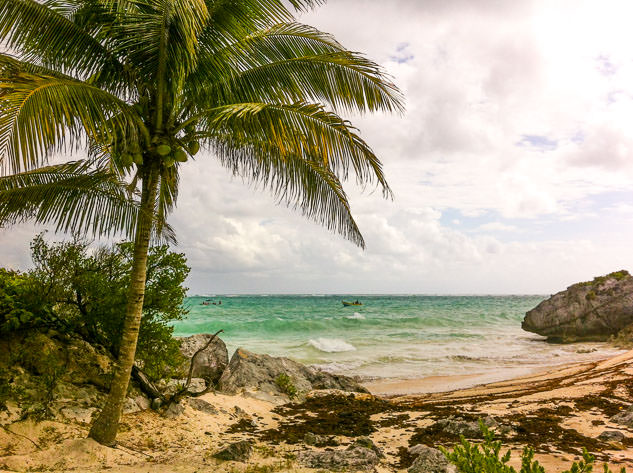 The return trip: Cancún – Toronto – Washington DC
Tulum was the last stop in my 10-day itinerary throughout Mexico. After this, fun was over and it was time for me to return back to cold Washington DC. Unfortunately, the return trip wasn't short of surprises and turned out to be a painful one. First, I had to catch a bus from Tulum to Cancún, grab my luggage at the hotel, head to Cancún airport and fly all the way from there to Toronto. Once I got there, I spent the night in the airport waiting for my early morning flight to DC. However, I misunderstood the boarding times and was late for check in, so I missed my flight. Fortunately, they put me on the next flight at no cost although I had to endure an everlasting queue at the security check. On top of that, one of my suitcases was missing when I landed in DC. Luckily, I got it home a few hours later.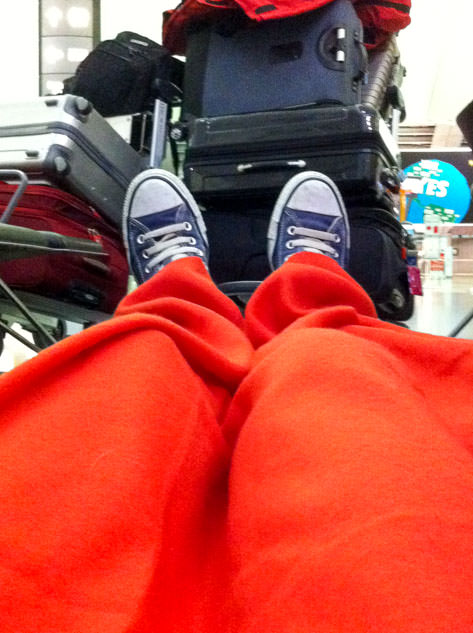 After all these hiccups on my return trip, I reckon the Mayan Gods wanted me to stay in Mexico. To be honest, I trust I'll be back some day! ¡Viva México!
PS: Here is the list of locations I would like to visit next time I'm in the country. Feel free to leave any other suggestions you may have in the comment box below!
Puebla
Oaxaca
Guanajuato
Morelia
Mexico City: Xochimilco, Polanco, Roma, Zona Rosa
Yucatán: Playa del Carmen, Xel-Hà, Isla Mujeres, Mérida, X-Caret park, Holbox Island
Cuisine: try the chapulines (crickets!)
If you'd like to read my other travel guides about the destinations I visited throughout Mexico, click any of the following:
Thanks for following along and drop me a line below if you enjoyed this post!