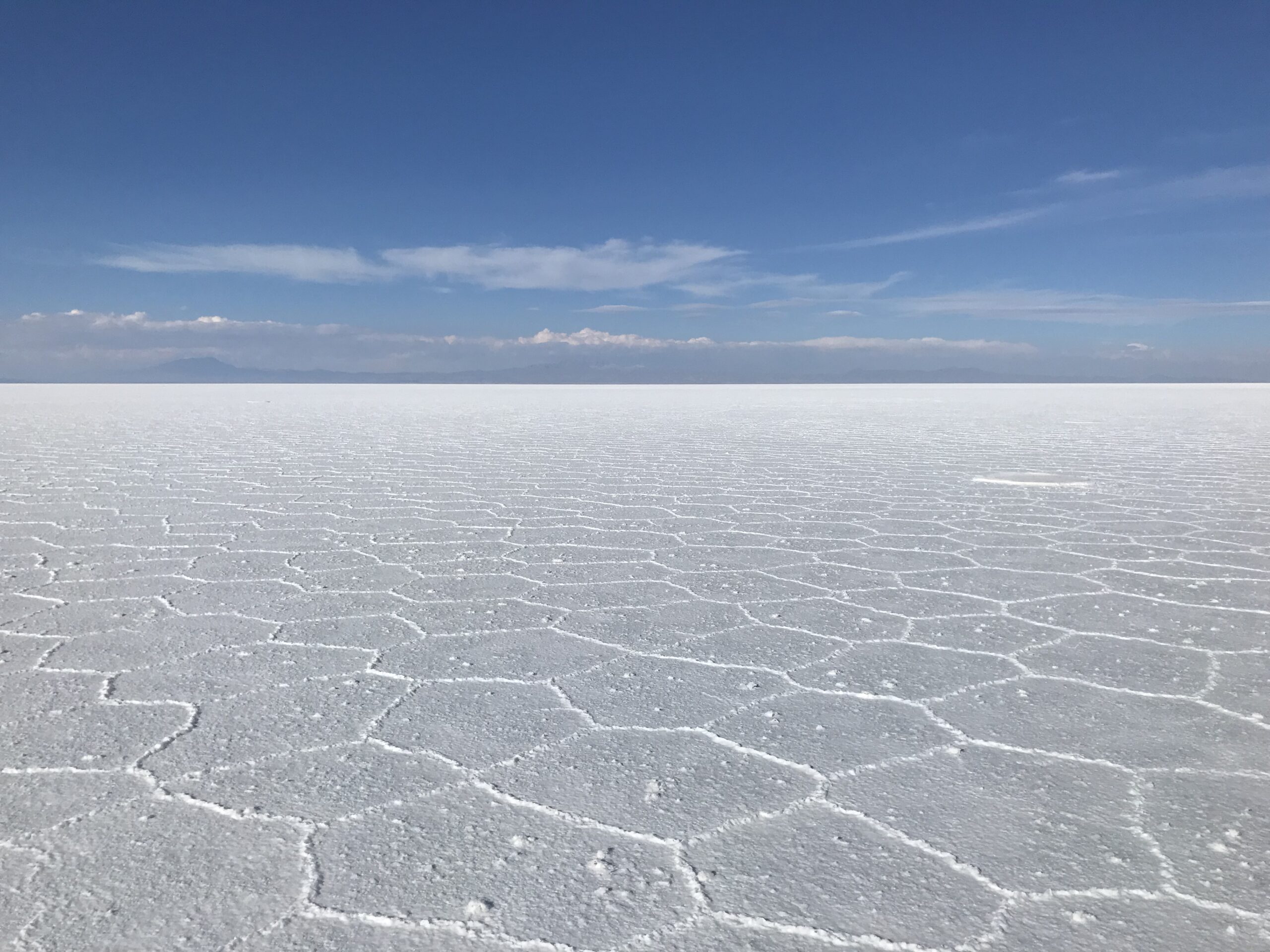 Salar de Uyuni
Salar de Uyuni, located amid the Andes in southwest Bolivia, is the world's largest salt flat. It's the legacy of a prehistoric lake that went dry, leaving behind a desertlike, nearly 11,000-sq.-km. landscape of bright-white salt, rock formations and cacti-studded islands.
Day 1
Our driver Valerio picked us in the morning to explore the Salar and some other places. Our first stop was in Colchani, a village known for its handicraft shops (we bought a salt lamp!) where we learned about the salt-making process with Juanito.
Driving through the Salar was surreal because of its vast extension. The only thing you could see all around was salt! As a reminder, the Salar is estimated to contain 10 billion tons of salt, of which less than 25,000 tons is extracted annually.
Our next stop was my highlight of the day: Isla Incahuasi (30 Bs). This 'island' in the middle of the Salar is filled with giant cactuses and the view from the top is breathtaking, not only because of the altitude but because it seems you're above the clouds.
After our walk around Isla Incahuasi, we had a picnic with Valerio and started heading back. We stopped along the way to observe the hexagonal shapes of the salt surface in some parts of the Salar and take funny pictures. We also visited the Dakar Monument and the first salt hotel, Playa Blanca, now turned into a dusty museum.
We ended our day watching the sunset close to the entrance to the Salar, where the water on the surface allowed us to capture incredible pictures with the mirror effect. We were lucky to visit at the very end of the rainy season!
Next stop: heading south towards the Reserva Nacional de Fauna Andina Eduardo Avaroa (I and II)!
Trip details:
– Flight: We flew directly from La Paz to Uyuni with Amaszonas (45 mins only). Although the airport is very basic and was built three years go, we were lucky that there was even one. Previously, tourists would arrive by bus, which considering the distances and the Bolivian roads, had to be quite painful!
–
Tour
:
Turismo El Desierto
, a very professional local agency that we booked for our itinerary through Salar de Uyuni and the Eduardo Avaroa Reserve. The driver Valerio and his wife Gregoria picked us up upon arrival. Valerio and his son in law José were our drivers and tour guides throughout the trip.
–
Hotel
: we stayed at our hotel
Cristal Samaña
(a salt hotel, which is common practice in the area). We had initially planned to stay at the nearby
hotel Palacio de Sal
, but due to a lack of availability we had to change our plans. However, we stopped by there during our last night and loved the place, especially its cocktails and dinner. We'll definitely stay there next time!