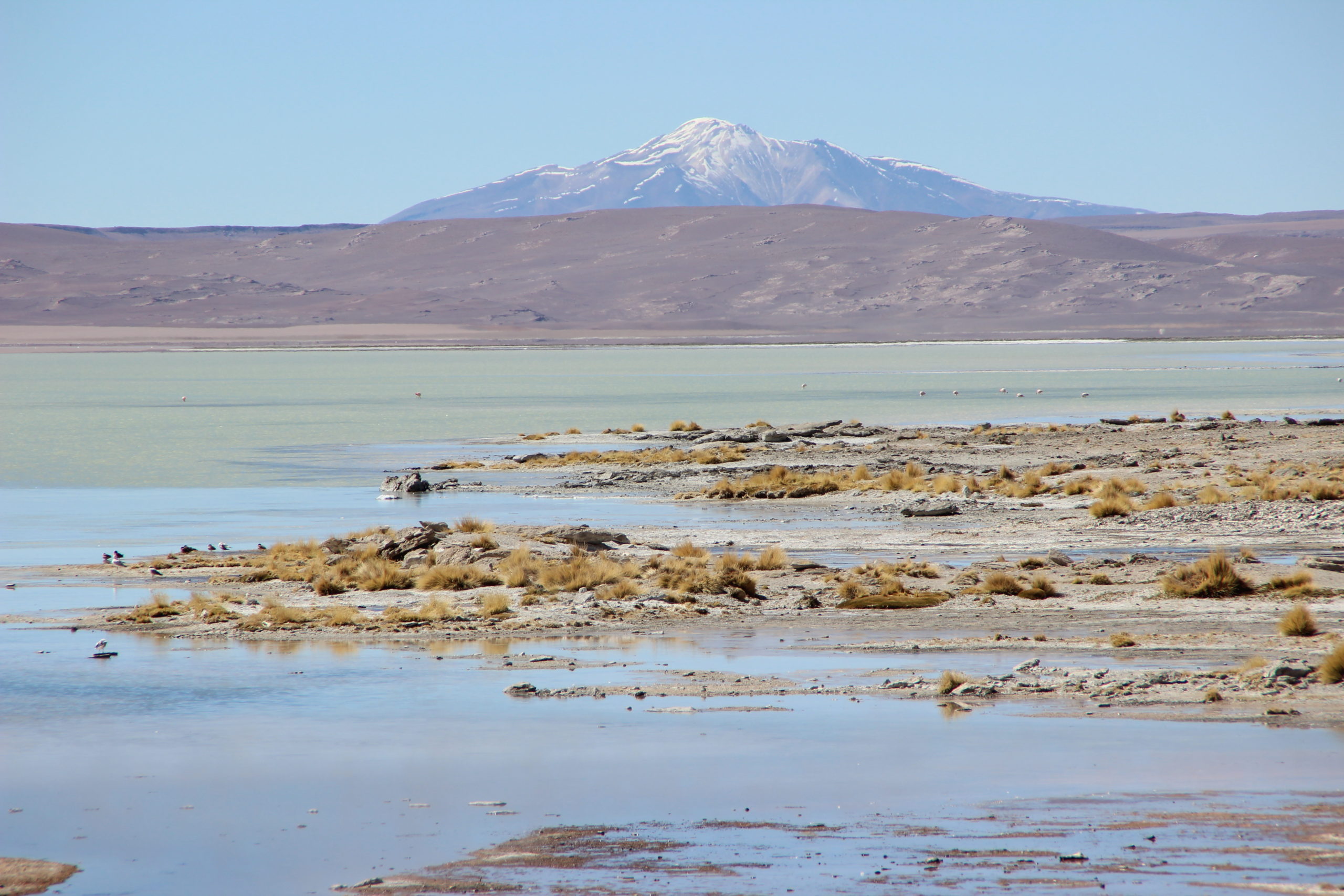 After visiting Salar de Uyuni and entering the Eduardo Avaroa Andean Fauna National Reserve, we set off to explore all the wonders in this Reserve. The geysers, lagoons and volcanoes left us speechless once again. Make sure to include this landmark in your bucket list when traveling around Bolivia!
Day 3
We woke up really early (4.45 am) in order to be on the road one hour later. The crazy time was due to the fact that the next stop of our tour in the
Eduardo Avaroa Andean Fauna National Reserve
were the incredible
'geysers sol de mañana'
(morning sun geysers) at 4,900 meters high. Despite the freezing cold and wind up there, the view of the mountains and the geysers was just amazing. This area is characterized by intense volcanic activity and the sulphur springs field is full of mud lakes and steam pools with boiling mud, whose smell is quite disgusting by the way.
After the freezing start of the day, we headed to the
Laguna Polques
(
Hot Springs
). It was really nice to indulge ourselves in these thermal waters while admiring the beautiful sunrise view of the lagoon surrounding us. These hot springs  have a high content of minerals and the water temperatures hover at a comfortable 29°C.
There are changing facilities next to the hot springs. 
We then drove to the Salvador Dalí Desert, an extremely barren valley with landscapes that resemble surrealist paintings by Salvador Dalí.  Our next stop was Cerro Nelly (Mount Nelly), which is a stratovolcano about 5,676 meters high. This mountain features beautiful colors.
After driving through Paso del Cóndor, we visited the two last lagoons in our tour: Laguna Blanca and Laguna Verde. The latter features the imposing Licancabur volcano in the background. If you wish, many tours will take you behind the volcano all the way to the Atacama desert in Chile! We sat for a while to admire the breathtaking view of the lagoon and the volcano. It was pure magic!
On our way back to Uyuni, we saw the Uturuncu volcano and native fauna such as llamas, vicunas and suris (they look similar to ostriches). We also noticed several mineral fields of borax and lithium along the road. Upon arrival to Uyuni, we explored the gorgeous hotel Palacio de Sal, which was right in front of our hotel. We had initially planned to stay here, however the lack of availability didn't make it possible. We will sleep at this hotel the next time we're in the area as the service was really good (we stayed for a cocktail and dinner) and the hotel was beautifully decorated and taken care of.
Make sure you visit the Avaroa Reserve if you ever travel to Bolivia!