A guide to the Feria de Abril in Sevilla (Spain)
Every year, Sevilla becomes the city that never sleeps for a week. During those days, locals and visitors flock to 'El Real de la Feria', a vast outdoor complex set for the occasion, to enjoy life dancing sevillanas, drinking rebujito and meeting with friends and family. Want to know more about this unique celebration? Then keep on reading this guide about the Feria de Abril in Sevilla to understand and navigate this festive occasion like a true sevillan@. Olé!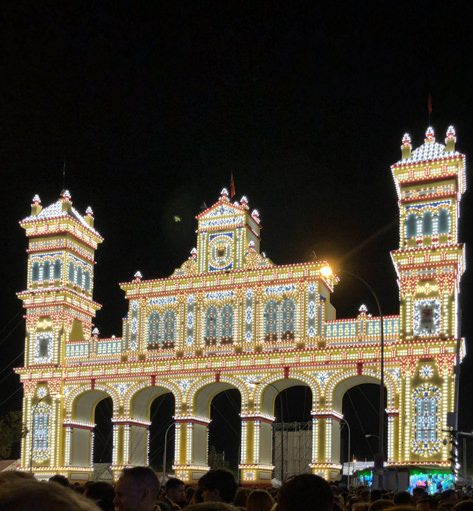 Basic words to hit the Feria like a local
There's a certain vocabulary you need to master when visiting the Feria de Abril in Sevilla. Let's start with the basics:
El Real, El Real de la Feria or La Feria: it refers to the area in Sevilla where this celebration takes place. Located in Los Remedios neighborhood, near Triana, this complex is built from scratch every year. It's a huge task that takes months in the making. Imagine building another city within Sevilla in order to house thousands of people having fun!
Caseta: this is your second home away from home. Literally meaning 'small house', these casetas are wooden cabins with a front porch where people meet up with their loved ones to dance, eat and drink. Some casetas host flamenco shows during the day to entertain its guests. Casetas vary in size, but most of them have an open area up front resembling to a porch to dance or eat, while the bar lies in the back. In Sevilla, contrary to other Ferias in Andalucía, most casetas are private and not public. This means that access is restricted unless you know someone in the caseta. Note that there´s even security at the entrance of the casetas. In order to be a member of a caseta, you need to pay a yearly fee. During the Feria, caseta members usually get coupons and have a discount of 20% when ordering food and drinks.
Rebujito: this is the official drink of the Feria, which combines manzanilla wine with soda (Sprite or 7Up). It's served in a catavino glass, with a lot of ice. Rebujito is really refreshing, which was great given this year was especially hot when I visited (around 35C). However, remember to drink water too to stay hydrated and not to wake up hangover the next day. 🙂
Flamenco, sevillanas, rumba and bulería: during the Feria, you can expect a lot of dancing and singing. You should be aware that flamenco is a musical world in itself, encompassing various styles within it known as 'palos'. Sevillanas, rumbas and bulerías, are all different palos. Sevillanas are danced in pairs.
Pescaíto frito: literally meaning 'fried fish', you will find it everywhere in Andalucía, and obviously in the Feria. Typically you'll eat fried anchovies, hake or calamari. In terms of food you can order at the caseta, other traditional options include cold meat (jamón, chorizo, cecina), croquettes (croquetas) or prawns. I was surprised to find that the food in the casetas was excellent quality and delicious. The catering is usually expensive but totally worth it.
Alumbrao: the lighting of the Portada (the façade and main entrance gate to the Feria at the end of Calle Asunción) marks the start of a week of celebrations.
Albero: referring to the pipeclay, you'll find that the streets of la Feria are covered in it. Ladies, it's important to bring closed shoes if you don't want to end up with dirty feet, especially if it rains.
Vestido de gitana, flamenca or sevillana: I believe there's hardly a traditional dress that beats the flamenca dress. Known for fitting women's bodies to perfection, you can find endless flamenca dresses options: from the colors, to the heights of the flounces or the shapes. As a matter of fact, flamenco fashion evolves with time and has its own fashion week (Semana Internacional de Moda Flamenca, SIMOF).
Farolillos: these colorful lanterns light up El Real de la Feria, both on the streets and inside the casetas. They're one of the main features of this celebration.
Coche de caballos: in Sevilla, as in other Spanish cities, hiring a horse-drawn carriage is just an alternative way of sightseeing. During the Feria, this becomes an even more popular option and some people opt for taking a carriage to head to El Real. The city also hosts a two-day exhibition (Exhibición de Enganches) that displays exquisite carriages. You can spot some people riding their own horses to go to the Feria as well, with men wearing a short suit (traje de corto) and women wearing a horsewoman skirt (traje de amazona).
Olé: you will hear this very Spanish interjection pretty much everywhere. It's an exclamation of approval or encouragement customary at bullfights or flamenco dancing, but can be used in any other kind of situation.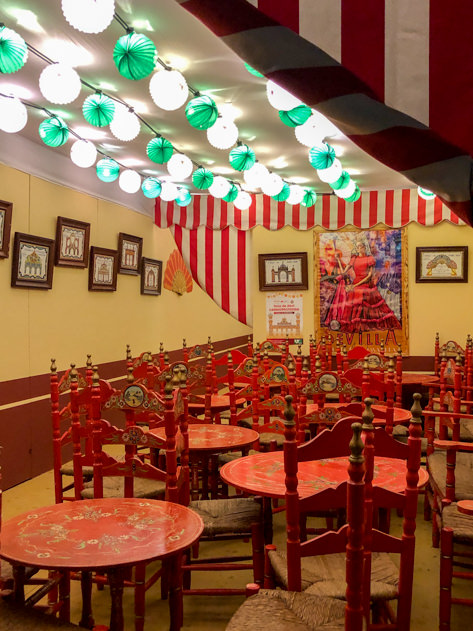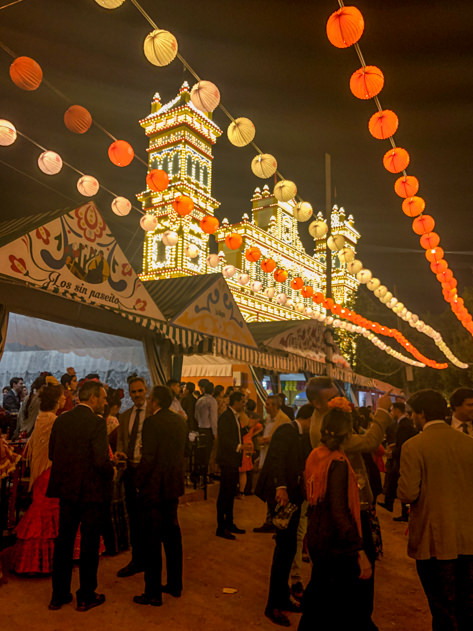 Read my other posts about Andalucía for more inspiration around this region!
Spending New Year's Eve in Priego de Córdoba
Welcoming 2020 at Museo-Hotel Patria Chica in Priego de Córdoba
The majestic beauty of Córdoba
Around the Costa del Sol: Málaga, Marbella, Puerto Banús, Ronda & Gibraltar
Summer holidays in Andalucía (I) – Sierra de Aracena
Summer holidays in Andalucía (II) – Tarifa & around
Frequent questions about the Feria de Abril in Sevilla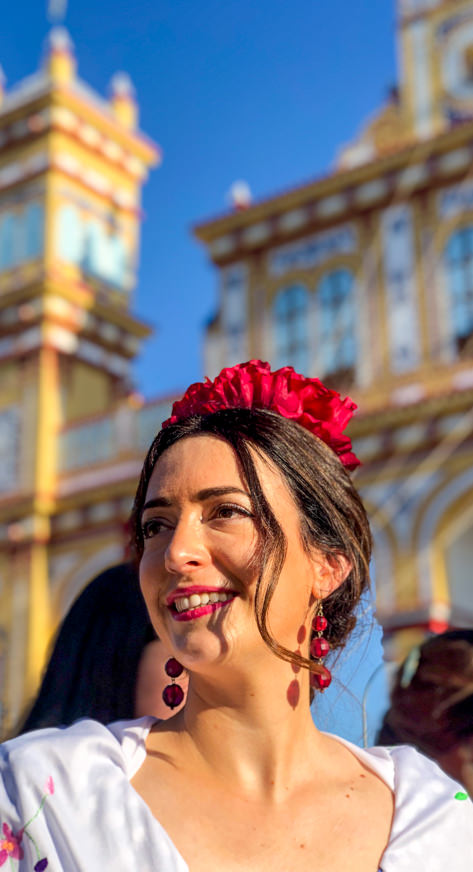 How long does the Feria de Abril last and when does it take place?
The Feria in Sevilla lasts for a week, beginning on a Saturday midnight and taking place until the Saturday of the following week.
As its name indicates, the Feria de Abril usually happens in the month of April, although it can fall in May too. In general, the Feria begins two weeks after the end of the Holy Week (Semana Santa). Although it originated as a commercial fair to sell cattle, the Feria has evolved into a festive week to celebrate the arrival of spring and life in general.
Celebrating for a whole week can be exhausting. While some people like to go to the Feria every day for a few hours, others prefer to head to El Real some days only and go all out. It really depends on how you're feeling, but here are some days that you want to mark in your calendar. On the first Saturday, the Feria starts with a special dinner (cena del pescaíto), then followed by the 'alumbrao' at midnight. Since it marks the beginning of a week of celebrations and locals and visitors have been waiting for this day for a year, chances are the streets will be extremely busy. On the second and last Saturday, fireworks at midnight mark the end of the Feria.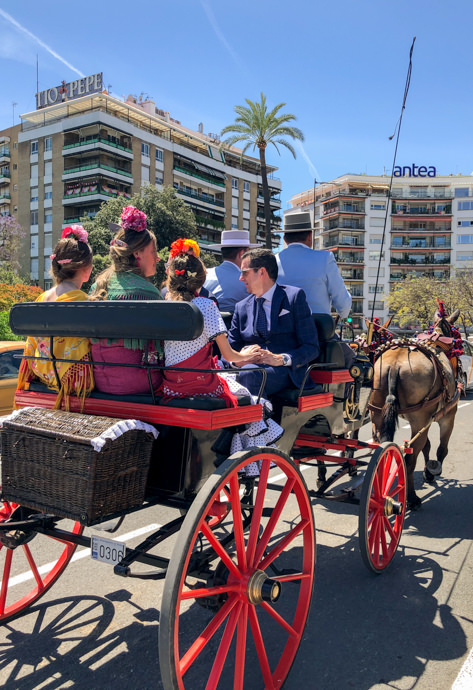 Are there other Ferias?
Indeed, there are many other Ferias across Andalucía, such as the ones in Jérez, Málaga or Córdoba, to name a few. However, the one in Sevilla is the most popular and exclusive. Given there are migrants from Andalucía throughout Spain, Ferias also take place outside the region. There's even one in my hometown every year!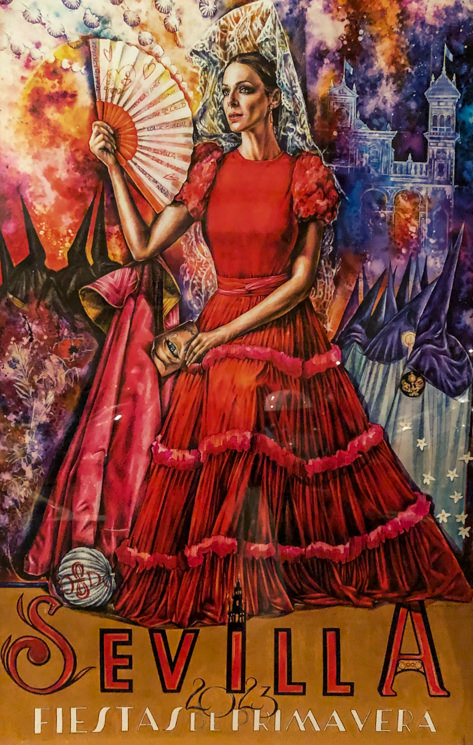 Where does the Feria de Abril take place?
Although the whole week of celebrations used to happen at the Prado de San Sebastián, fifty years ago El Real, also known as El Real de la Feria, El Ferial or La Feria was transferred to Los Remedios neighborhood, near Triana. This Sevillian complex is built from scratch every year, a huge task that takes months in the making.
If you're taking the subway, the closest metro stations to the Feria are Plaza de Cuba, Parque de los Príncipes or Blas Infante.
Expect long lines, especially at night, for taking a bus or a taxi back home.
In case you're driving, you can park at Charca de la Pava, which is connected with free shuttles.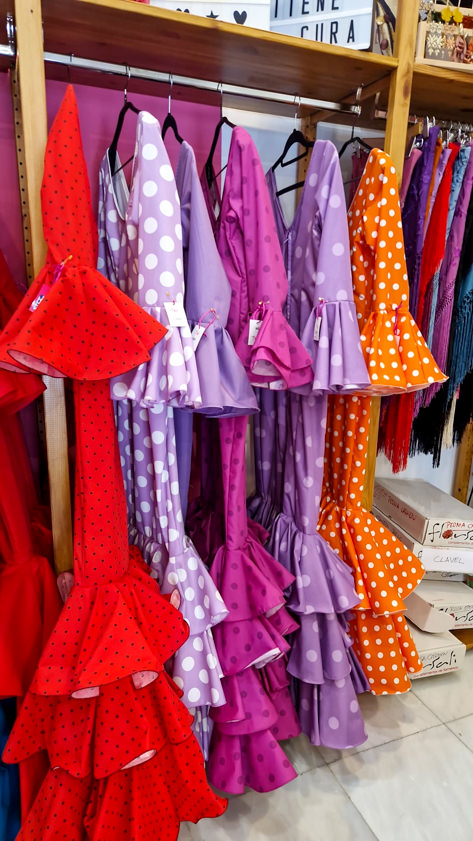 What is the dress code in the Feria de Abril in Sevilla?
Wearing a flamenca dress is not compulsory, but you will find that most girls and women do. Even if they may be cumbersome (the dresses can be very heavy), they're really flattering, sexy and colorful.
In terms of the dress code, note that you're not supposed to put on your flamenca dress on the first day of the Feria (the Saturday when the pescaíto dinner and the alumbrao take place). On that day, you're encouraged to dress formally. From Sunday on, you can wear your flamenca dress or if you're not feeling like it, just put some elegant clothes on. Remember to avoid sunglasses, jeans and sneakers.
If you're traveling to Sevilla and have no flamenca dress or accessories, don't worry as you will find endless options in the city. Some popular brands include Rocío Peralta, Micaela Villa, Sibilina, Aires de Feria or Purificación Abad, but of course there are many more and prices vary. You can either buy or rent a dress. Please note that good quality dresses can be expensive (200-400 EUR). Actually, it's not uncommon for local women (sevillanas) to buy a dress every year!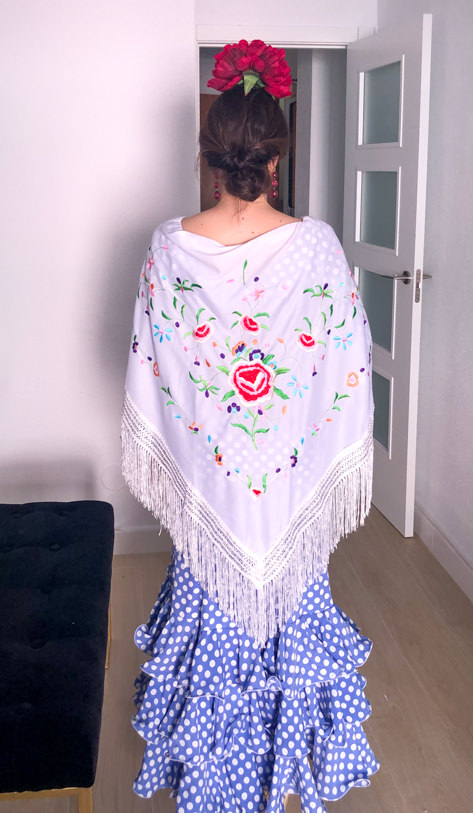 How does the flamenca outfit work?
For women and girls, there are various elements to the flamenca outfit:
Flamenca dress: this is the main piece and center of attention. Note that most of the dresses feature a hidden pocket, which is a genius idea to safely carry your phone, wallet, keys, etc instead of bringing a handbag.
Shawl (mantón or mantoncillo): it is placed on the shoulders and is generally embroidered and has fringes. There are many ways to style it: you can either leave it as is, clip the ends with a brooch or cross it.
Brooch (broche): most women and girls use one to clip the ends of the shawl. It varies in shape.
Earrings (pendientes): picking a pair of earrings really depends on your taste. You can of course go for small ones, although most girls prefer big and elaborate pieces.
Flowers (claveles): typically, you put a carnation or a few of them on top of your head. They can vary in size and color, and match (or not) your flamenca dress and the rest of your accessories. The hair is usually tied in a low bun.
Shoes: the most popular option are wedge sandals, which will keep your feet away from the pipeclay floor.
In case you´re a man, getting dressed for the Feria is luckily much simpler, although the dress code is also formal. You can wear a suit, a shirt and a tie. During the day, you can pick a light suit, whereas a darker suit would be better for the night.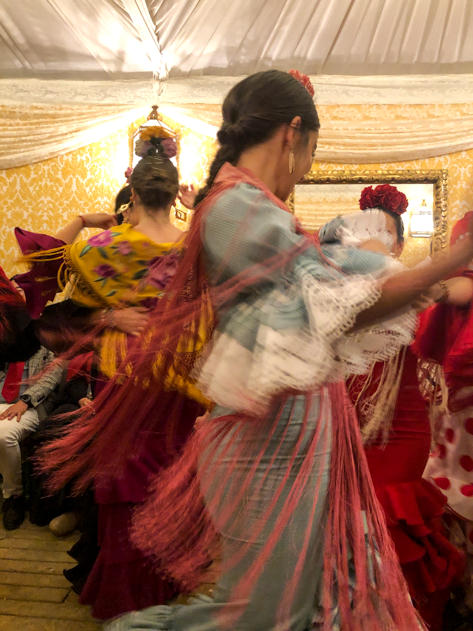 Do I need to dance sevillanas?
Of course, dancing is not mandatory but I found that it definitely makes the experience much more enjoyable because you can blend with the locals.
In my case, I have no clue about dancing sevillanas and I´m considering taking a few classes beforehand if I come back to the Feria some other year.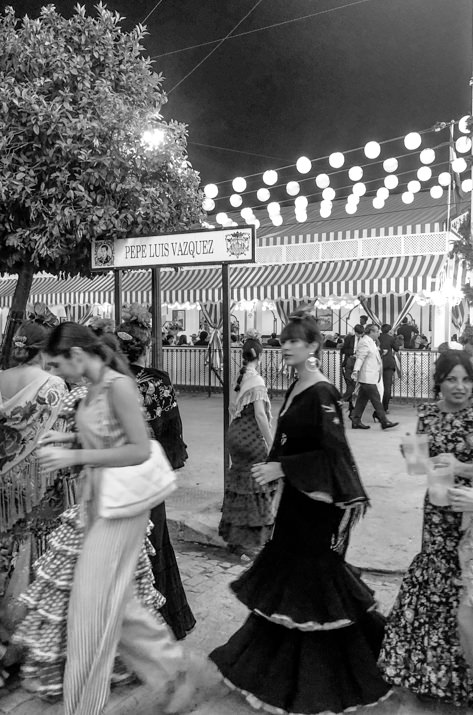 How do you get around in the Feria de Sevilla?
As mentioned previously, the complex of the Feria is located in an immense area between the Remedios and Tablada neighborhoods covering 275.000 m2! There are over 1.000 casetas, meaning endless locations to have fun.
El Real de la Feria is like a city within Sevilla itself. As such, it features 15 streets that are named after famous bullfighters (Espartero, Juan Belmonte, Joselito el Gallo). The casetas on every street have their own number too, which makes it easy to locate them.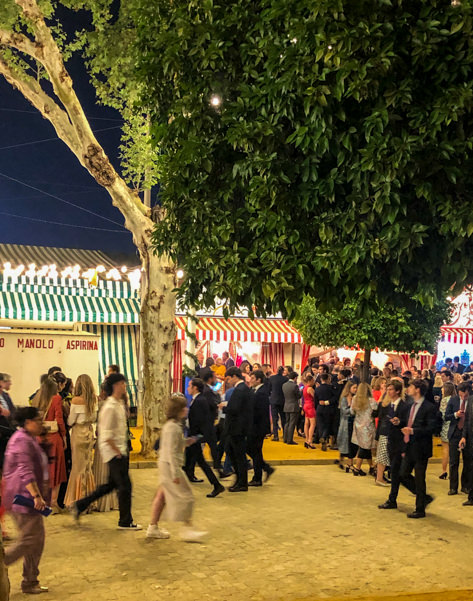 Can children go to the Feria?
People from all ages are welcome to visit and have fun at the Feria, including children. In case you have kids, note that there is a dedicated area called ´Calle del Infierno´ (Hell Street) housing an amusement park. In it, you will find endless rides, shows and even a circus.
For more information about the Feria de Abril in Sevilla, feel free to browse this local website.
Tips for a great stay during the Feria de Abril in Sevilla
In order to enjoy the Feria as much as possible, here are my three suggested tips: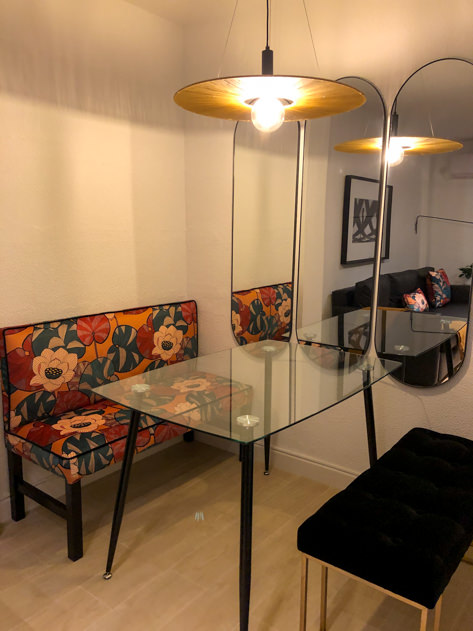 Book your accommodation well in advance and if possible, walking distance from the Ferial
Together with a group of seven friends, we had booked a fabulous apartment ideally located for our stay during the Feria months in advance. However, our reservation was canceled a couple of days before traveling to Sevilla. Despite the initial tension (imagine having no accommodation at all for a large group in the busiest period of the year for a given city), one of our friends miraculously found two apartments (Triana Evasión and Pureza Triana 88) in the same neighborhood, next to each other and even cheaper. We were really lucky!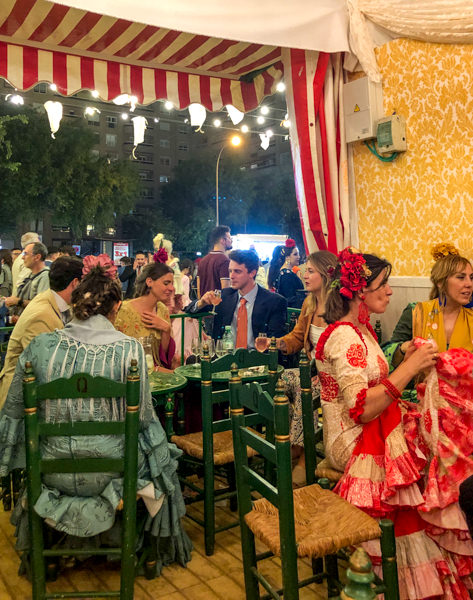 Make sure you know locals in Sevilla so you can go inside the 'casetas'
In Sevilla, most casetas are private and not public. This means that access is restricted unless you know someone in the caseta. That is why it´s vital to have friends who can get you inside, otherwise you´ll be missing out on lots of fun. If you´re traveling with a group of friends, the smaller the group of friends the better and easier it will be for all of you to get in.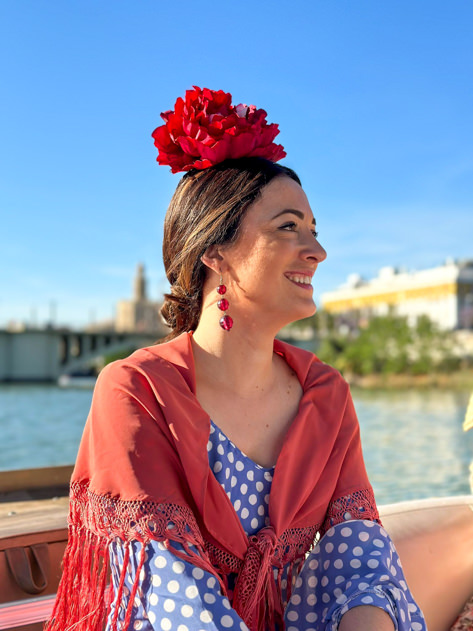 Wear a flamenca dress to feel like a sevillana
This was definitely one of my highlights of the trip to the Feria de Abril. I had never worn a flamenca dress before, and it was fun and exciting to get ready with my girlfriends. I might be biased, but we all looked beautiful thanks to our flattering dresses and accessories!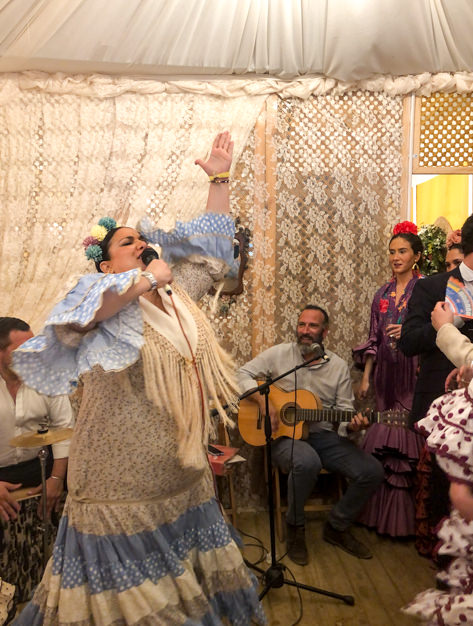 Budget accordingly
Spending the entire week, or even a few days, at the Feria de Abril is certainly not cheap. What I can guarantee you though, is that you'll have the time of your life and will be longing to come back next year!
In order to be fully transparent with you, below is a breakdown of what this stay in Sevilla costed me:
Accommodation for 4 nights: although we had initially booked Minty Stay San Telmo for 446EUR / person, we ended up splitting between Triana Evasión and Pureza Triana 88. The latter apartments where we slept were actually cheaper (around 260 EUR each).
Direct flights from San Sebastián to Sevilla with Volotea: 92.5 EUR
Food & drinks at the caseta: to be honest, I lost track of how much I spent, but I'd budget at least 70 EUR/night/person.
Visit my Spain page for more inspiring destinations around the country!
I trust you enjoyed this guide to the Feria de Abril in Sevilla and that the tips will help you plan your perfect stay. Feel free to drop a comment below in case you have any questions.