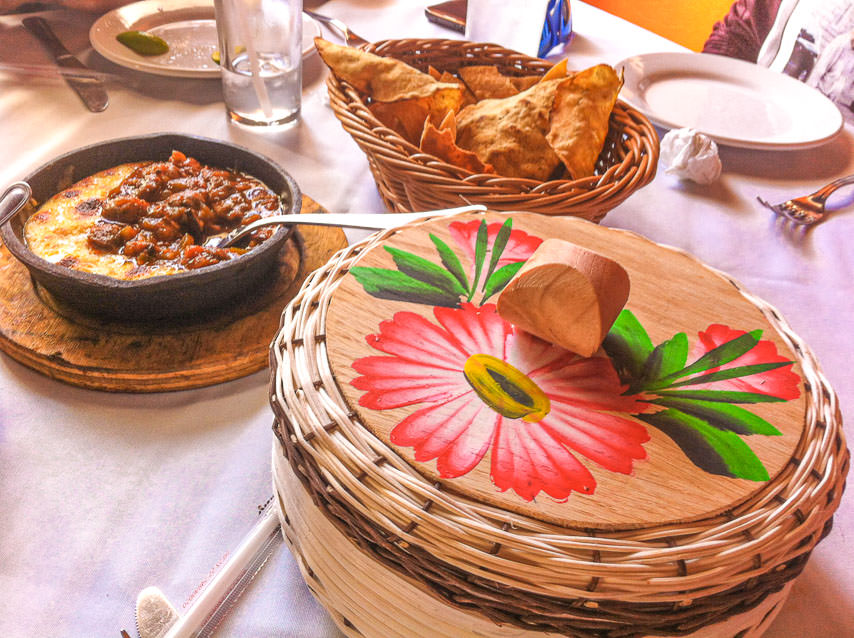 Restaurante Las Palomas: the best Mexican food in Santiago
If you're looking for the best Mexican food in Mexico, look no further. I've got you covered. Restaurante Las Palomas in the charming Pueblo Mágico of Santiago is where you need to go. Read this mouth-watering restaurant review. I guarantee you'll be booking your flights to Mexico in no time!
Location
A little over 30 minutes from Monterrey (Nuevo León) lies the beautiful village of Santiago. Considered a Pueblo Mágico due to its rich colonial past, I fell in love with it right away thanks to its colorful facades, architecture and authentic local culture.
You will find Restaurante Las Palomas located on one corner of the central Plaza Ocampo. The nearby main square is the perfect spot after lunch, where locals sit and chat and street vendors sell their typical sweets.
By the way, if you're curious about what to do in the Santiago/Monterrey area, feel free to check out my related post here.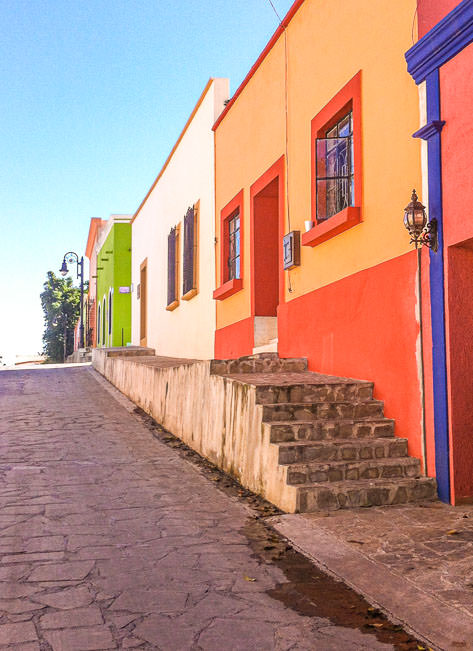 The restaurant concept
Restaurante Las Palomas de Santiago is the place where you will be able to appreciate the flavors, aromas and textures of the typical regional gastronomy of Nuevo León.
Each of the ingredients here is chosen with special care and then cooked in the most rigorous tradition.
One of the things I liked the most besides the food was the decoration: it was colorfully Mexican at its best.
Las Palomas features not only a restaurant but a hotel too! Offering 25 rooms, it is the perfect spot to enjoy the magic and comfort of Las Palomas de Santiago and discover the rich traditions of the region of Nuevo León. In case you're organizing a social or corporate event, their facilities can accommodate up to 200 people. Lastly, you can have a drink at the bar 'El Quinque' or enjoy the many nearby attractions in the area.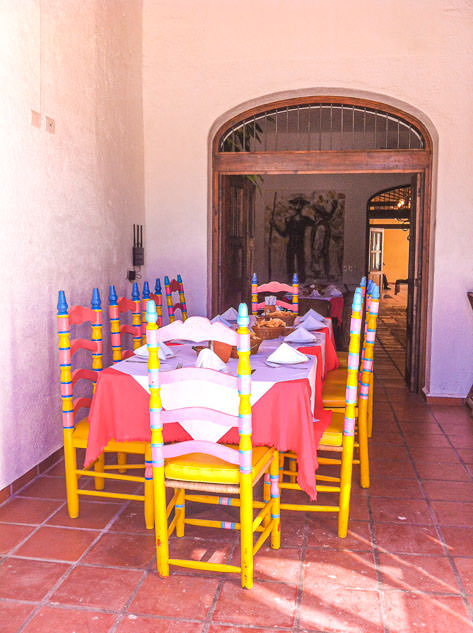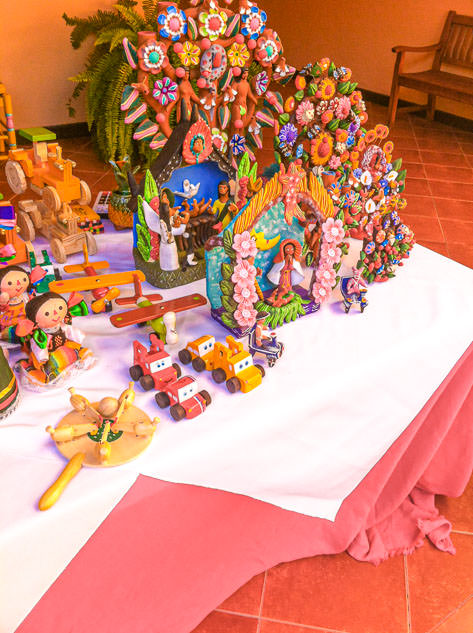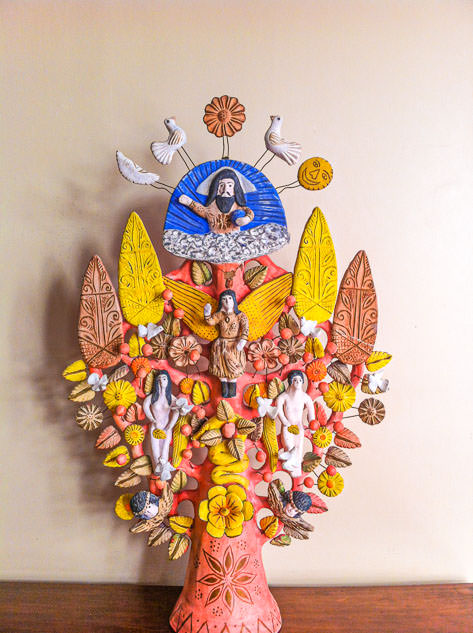 What to eat
I enjoyed a true feast and authentic introduction to Mexican cuisine at Restaurante Las Palomas de Santiago. Following the pieces of advice by la familia, we ordered the following as our main courses and dessert:
melted cheese with champis (mushrooms),
machacado con huevo natural (scrumbled eggs with dried meat)
arrachera (a cut of meat).
gorditas (a type of pastry),
pan de elote con canela (corn bread with cinnamon)
leche quemada (burned milk).
Everything was delicious and I didn't want to leave!
You can also check their menu for further details and to see what's available.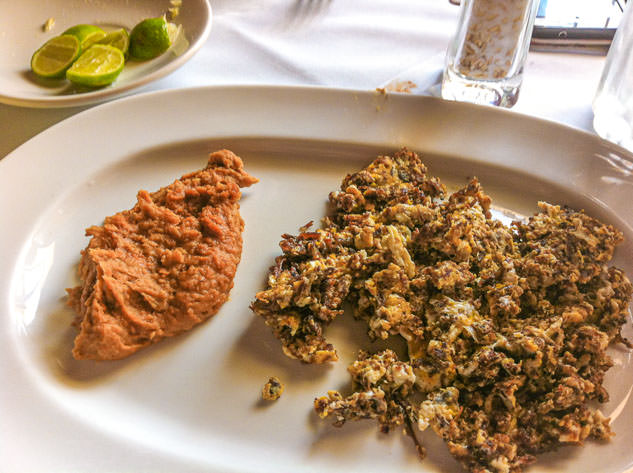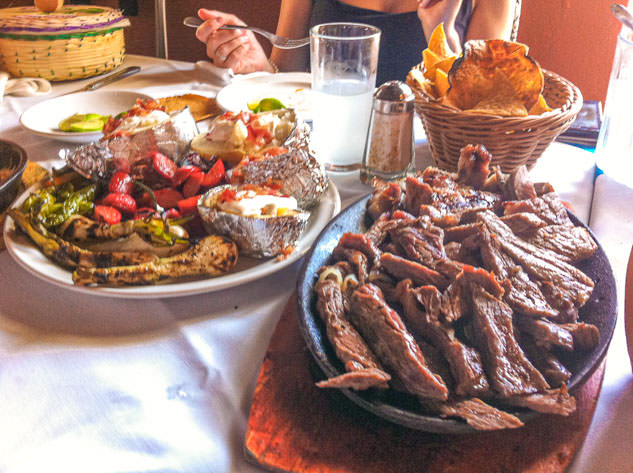 My personal review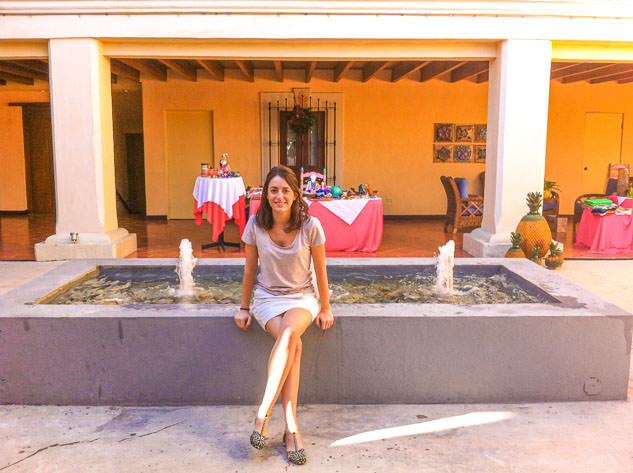 This traditional Mexican restaurant in Santiago was a foodie paradise in heaven.
I'm so glad my Mexican family brought me here and ordered all sorts of yummy delicacies.
If you're in the Monterrey area, I can't recommend this location enough. The village of Santiago is absolutely charming and the food at Restaurante Las Palomas de Santiago is pure joy. I'm sure you'll love it as much as I did!
Have you eaten at this place? How did you like it? Feel free to leave me a comment below!