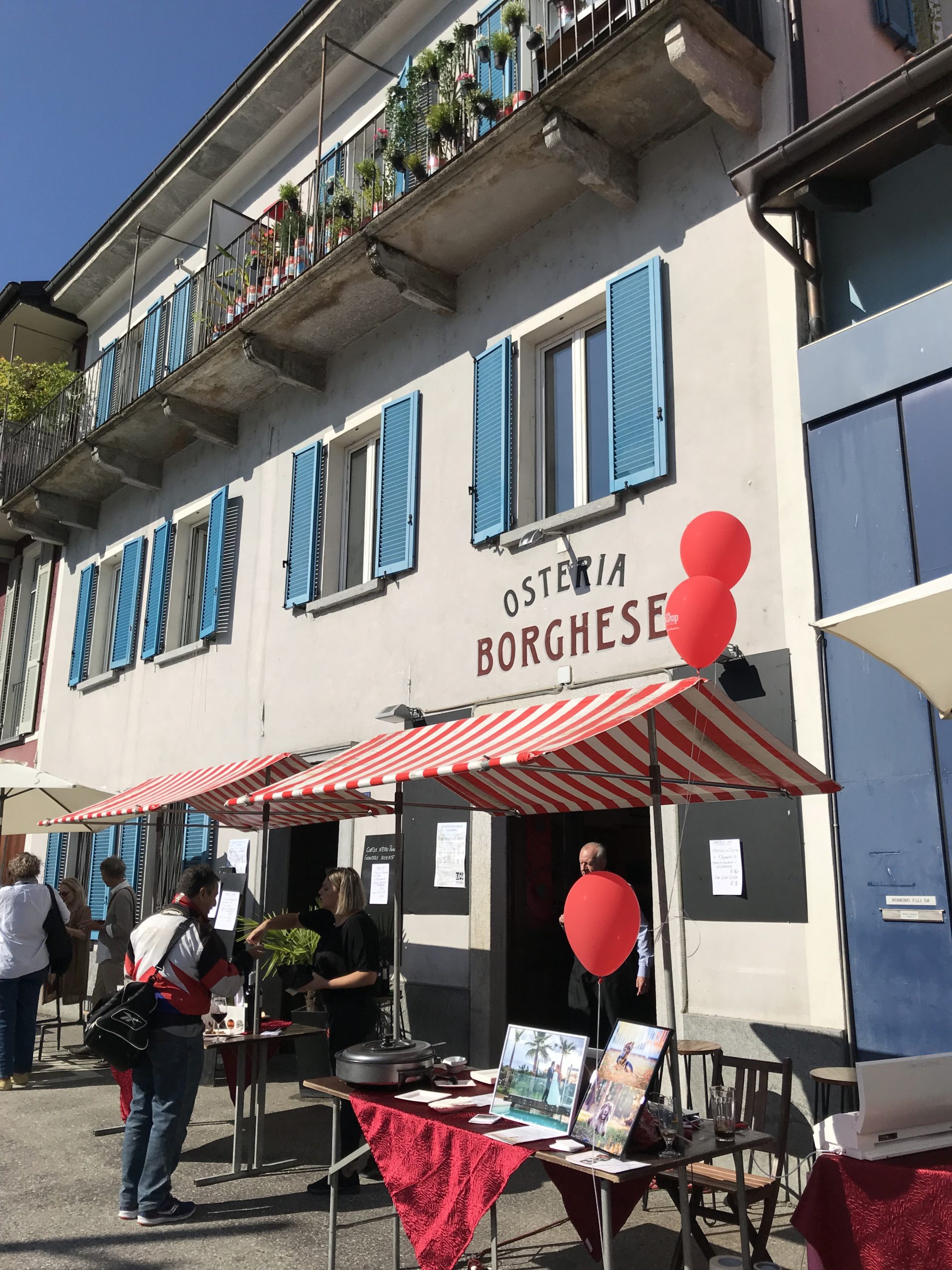 A weekend getaway to Locarno, Ascona & Zermatt
This weekend getaway felt like traveling to two countries. However we only stayed in Switzerland!  How is this even possible? Keep reading to discover it.
Ready for Locarno
We left on Friday evening from the Cornavin train station in Geneva. We headed to Locarno, in the Italian part of Switzerland called Ticino. In order to get there, we passed by Brig and Domodossola, meaning more than a 5 hour-ride. Among the various trains we took, the Centovalli train was the cutest because of its vintage feeling. However, it was very slow and it was already dark outside so we missed out on the panoramic views.
On Saturday morning, we set out to explore this Swiss city with Italian vibes. Our first stops were the Palazzo Visconti and the main square of Locarno: the colorful Piazza Grande with its backdrop of ancient façades. We then headed up to the Sacred Mount Madonna del Sasso by cable car. We visited the sanctuary and enjoyed the breathtaking view of the city and the turquoise waters of Lake Maggiore from above.
After walking down from Madonna del Sasso, we were back in downtown Locarno. We strolled around its charming streets and squares (Palazzo Morettini, Casa del Negromante, Piazza Sant'Antonio), which really felt as if we were in Italy. Besides, the sun was shining and the atmosphere was vibrant in the various cafés and terraces.
Ascona
After visiting Locarno, we took a bus to nearby Ascona. Also located on the shore of Lake Maggiore, the town is a popular tourist destination and holds the Ascona Jazz Festival yearly.
Off to Zermatt
Following our visit, we went back to Locarno in order to catch the train to Andermatt and then to Zermatt. We traveled during the afternoon and evening and the landscapes were just beautiful: lots of cows, green hills and waterfalls.
We left Zermatt in the morning and caught a modern cable car up to Sunegga. From there, we hiked the 5- Seenweg trail, which takes approximately 2h30 and passes by Blauherd, Stellisee, Grindjisee, Grünsee, Moosjisee and Leisee. Obviously it took us much longer because we enjoyed the hike and would stop along the way every now and then to take a break or capture the beautiful landscapes. Our aim was to actually get to Gornergrat and then go down to Riffelsee but by the time we were about to change directions, we were already exhausted, it was getting cloudier and the stunning Matterhorn wasn't that visible anymore. In any case, it was such a great day in the middle of nature, and the view of Matterhorn (4,478m) from any angle was breathtaking.
And after this perfect getaway weekend, it was time to go back to Geneva again. Guess how? By train of course. 🙂
Trip details:
Transportation:
We did all this trip by train thanks to the amazing Swiss railway system (SBB). It's worth getting the Half-fare travelcard! By the way, when you travel to Ticino, a good option is to also buy the Ticino ticket, which includes public transport and discounts on main attractions.
Locarno
Accommodation:
We stayed at the Locarno Youth Hostel (Ostello della Gioventù Locarno) for one night. The place is a 10 minute walk to the Piazza Grande in the city center. Standard bedrooms and breakfast included.
Restaurants:
We stopped for a quick bit of carpaccio and a glass of rosé at the terrace of the antique Casa del Negromante. Such a great place!
Zermatt
Accommodation:
We slept at Hotel Le Mazot, a very cozy chalet with a great breakfast in the morning. Perfect to start your day full of energy!
Restaurants:
I'm not even sure Mc Donald's qualifies in this section, but it was the only place which was open when we arrived at 11pm.