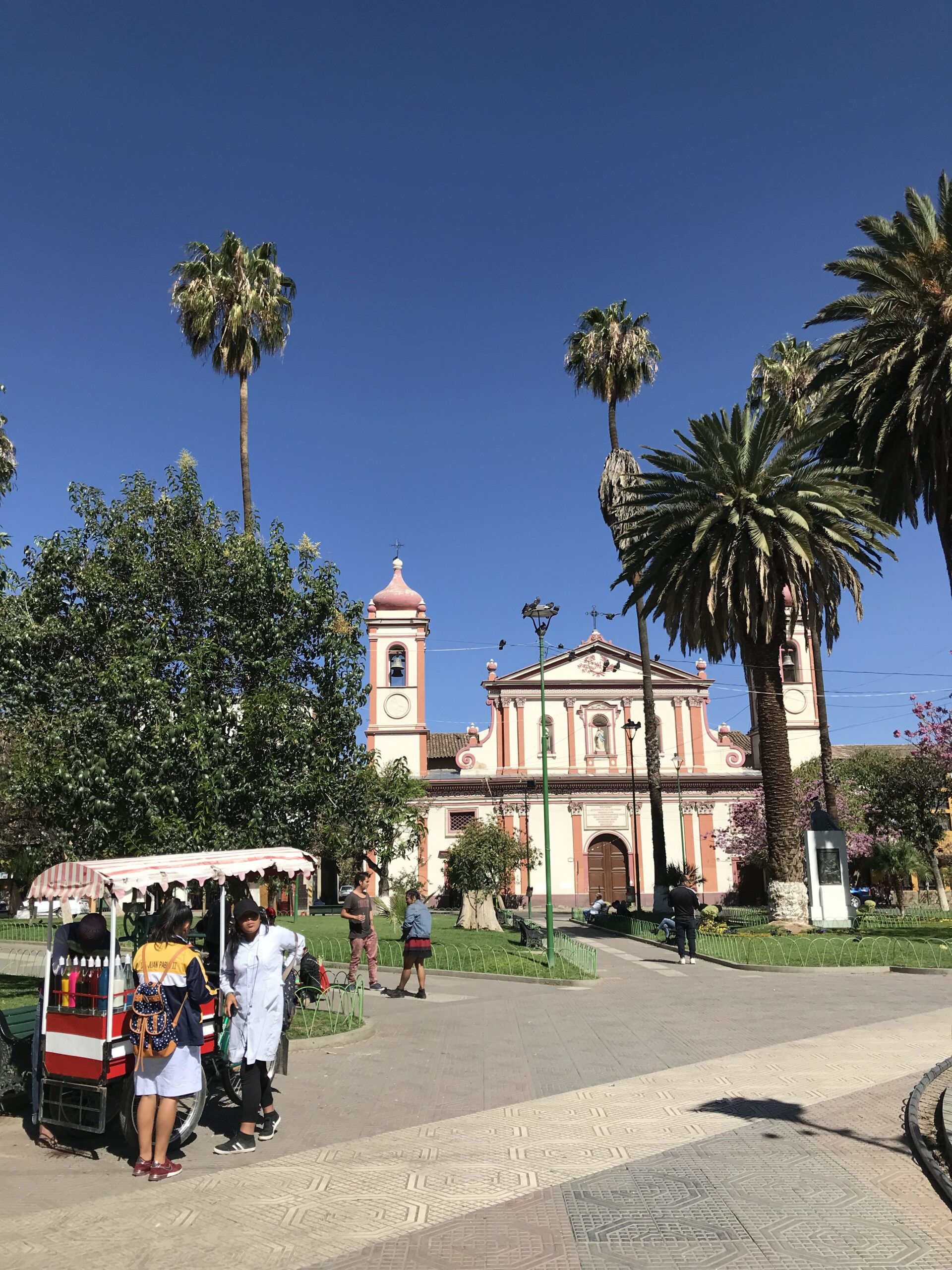 We just spent a few days in Cochabamba, which is nicknamed the culinary capital of Bolivia as well as the city of eternal spring. It is also one of the main cities of the country together with La Paz and Santa Cruz de la Sierra. Keep on reading to learn more about this lively place!
What to see and do in Cochabamba
Given it snowed (see post) on the day we were supposed to fly to Cochabamba, our flight was cancelled and rescheduled to the next (very early) morning. However, there were some visibility issues and some snow was still around, so our flight was delayed for another three long hours. I can assure you that Tarija is not well prepared for such cold temperatures as radiators barely exist here!
In any case, we were happy to land in sunny Cochabamba. As soon as we arrived to the hotel, my boyfriend had a work event to attend and I rested a bit first.
At first sight, Cochabamba seemed a bustling city compared to Tarija. I also noticed a clear separation between the northern district of Recoleta, which is modern and full of malls, and the historic center further south. By the way, many people still speak Quechua, as opposed to La Paz, where they speak Aymara.
Food- wise, salteñas are typical from Cochabamba. This is a type of savory baked empanada from Bolivia, usually filled with beef, pork or chicken mixed in a sweet, slightly spicy sauce containing olives, raisins and potatoes. Yummy!
After lunch (guess what I ate), I headed south towards the old town. I passed by Plaza Colón, a lively square with palmed trees and a Franciscan monastery on the side. I kept walking until I reached Plaza 14 de septiembre, which is the epicenter of Cochabamba. This big square hosts the Catedral Metropolitana as well as some cozy cafes and colonial buildings around it. My final touristy stop for the day was the Mercado de la Cancha. This is definitely THE place to go if you're looking for Bolivian handicrafts and textile!
On the day after, I enjoyed the swimming pool in the morning. Later on, I strolled with my partner around the city center before flying back to Tarija in the evening.
We enjoyed Cochabamba and we hope to visit again soon! We look forward to checking out the famous Cristo de la Concordia as well as the Convento de Santa Teresa next time around.
Travel details:
Accommodation:
Gran Hotel Cochabamba; conveniently located in the wealthy and commercial area of Recoleta; the hotel features big comfy beds and a  swimming pool!
Transportation:
Direct flight with Boliviana de Aviación from Tarija to Cochabamba's Jorge Wilstermann International Airport .
Restaurants: 
These are the ones we tried during our trip to Cochabamba.
Los Castores (av. Pando):  this chain owns a few branches in the city. Salteñas are a must here. I tried the fricasé and the dulce de pollo together with a pineapple milk juice. Just delicious!
Casa de Campo: this place has been long-established and many cochabambinos gather here with family, colleagues or friends. We ordered jugo de orejón, cerveza Taquiña, pato dorado and pique lobo (the latter being not very good).
Globos: standard fast-food chain; I had a spring salad (ensalada de primavera) for lunch.
Mikuy Café Cultural: great place for a coffee or snack right on plaza 14 de septiembre.