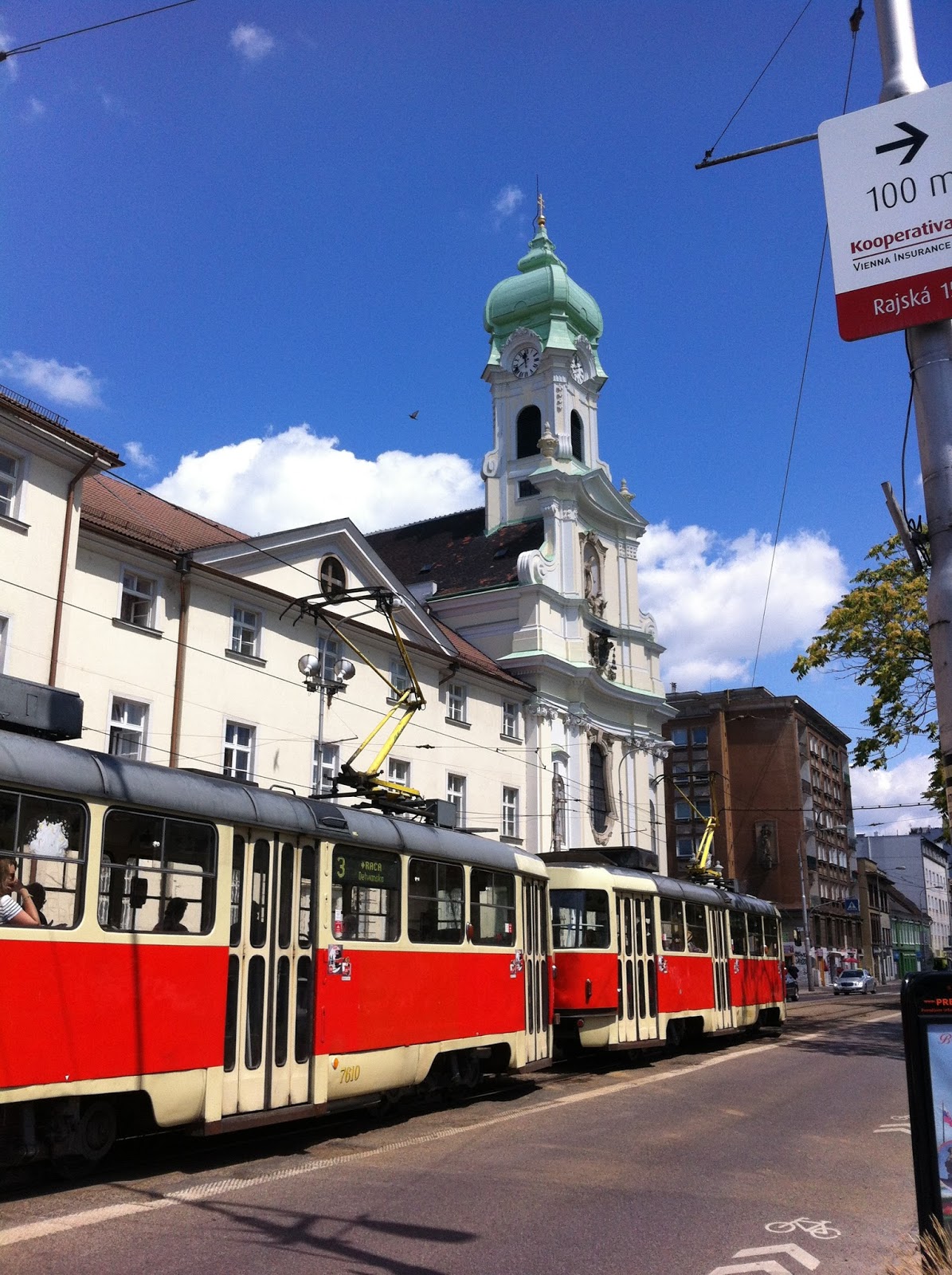 Read my post following my trip to Vienna and Bratislava! I recently spent a few days in the capital city of Slovakia and had a great time there.
!Hola, hola de nuevo!
Tras una larga ausencia vacacional, os retransmito desde Pakistán.
Ya llevo dos semanas por estas tierras lejanas con un proyecto del Banco Mundial y en unos cuantos posts os contaré la aventura pakistaní.
Ahora toca retomar las actualizaciones viajeras allá por julio, cuando estuve primero en Viena y luego en Bratislava. Como os contaba en el post anterior, fui a Viena por una Conferencia del Banco y aproveché para pasar unos días en Bratislava para visitar a mi primo y su novia y de paso conocer la capital de Eslovaquia.
Así que retomando el hilo de la historia, al acabar la Conferencia el jueves mis maletas y yo nos fuimos en el barco Twin City Liner a Bratislava. La verdad es que fue todo un puntazo ir en ese modo de transporte hasta allí. El trayecto apenas duró 1h15 y el billete me costó 30 euros saliendo del centro de Viena. Sin contar con que ir por el Danubio y disfrutar del paisaje no se puede comparar con ir en autobús.
Al llegar a Bratislava me esperaban mi primo Pablo y su novia eslovaca Ivanka, que viven allí. Fuimos a dejar los trastos a su casa y nos fuimos a tomar algo cerca de allá. Degusté mi primera cerveza eslovaca (la Zlaty Bazant) y me llamó la atención lo baratísima que era la cerveza.!Fue el gran descubrimiento del fin de semana saber que los precios de esta ciudad eran tan tirados, sobre todo viniendo de Estados Unidos donde estoy acostumbrada a todo lo contrario!
Tras reponer fuerzas, anduvimos por Laurinska Ulica y callejeamos por el centro antes de que anocheciera. Además, mis anfitriones querían que me ubicara en Bratislava ya que ellos se iban de vacaciones al día siguiente y yo me quedaba sola en su casa.Mi primera impresión de Bratislava fue que era una capital muy manejable a pie y además no muy grande, por lo que el fin de semana me iba a cundir de sobra. Eso sí, a lo que no llegué a acostumbrarme fue a no entender ni una palabra por la calle… El eslovaco es bien complicado y de hecho Ivanka me apuntó unas cuantas frases útiles 🙂
Para cerrar la jornada, nos juntamos con otra pareja amiga de mi primo y su novia y cenamos en el
restaurante italiano
Primo Amore
(
Kollárovo Nám. 2936-17
). Cenamos bastante, bueno y encima barato. Rematamos con una copa en el
café París
(
Drevená 576-10
).
El viernes me dediqué a turistear tranquilamente por Bratislava. Empecé por la Plaza del Mercado, pasé por la oficina de turismo a por información, y desayuné en el
Schokocafe Maximilian Delikateso
de la
Plaza Central Hlavné Námestie. Tomé un contundente chocolate negro con almendras y una tarta típica de nueces y miel.
Paseé por el borde del Danubio y me acerqué a la Catedral de San Martín y subí hasta el Castillo de Bratislava. Al bajar pasé por Hurbanovo Námestie, merodeé por el Palacio presidencial de Grassalkovich y sus jardines.
La última parte del turisteo del viernes la dediqué a pasear tranquilamente por la Plaza Central donde disfruté de un concierto de música clásica. También admiré el bonito Viejo Ayuntamiento, la Puerta de San Miguel y callejeé por Michalska Ulica.
Como me habían recomendado mis anfitriones, fui a cenar al
restaurante Flagship
(
Námestie SNP,8
) donde degusté bryndzové halusky, strudel y una copa de vino blanco eslovaco. !Todo esto a 9.4 euros! Me gustó el bryndzové halusky (una especie de ñoquis con queso de oveja y bacon) aunque me resultó demasiado contundente el plato para una noche de verano. 🙂
El sábado por la mañana husmeé por el mercado y desayuné en la
cafetería Foxford
(
Obchodná, 516/26
), donde me di un homenaje en forma de té negro con leche y un delicioso pastel con chocolate y arándanos.
Tras llenar el estómago volví a pasear por la bonita Plaza Central y me acerqué al Palacio del Primado. También visité la curiosa Iglesia Azul, crucé el puente SNP sobre el Danubio y disfruté de las vistas de Bratislava desde el otro lado. Además me encantó la zona playera y lúdica que se habían montado al otro lado del río, !perfecto para desconectar!
Finalmente el domingo la diversion tocó a su fin. Madrugué para tomar un bus de Bratislava al aeropuerto de Viena y de allí vuelta a DC.
Y hasta aquí el episodio europeo de julio.
Os espero en mis próximos posts sobre Copenhague, Mallorca, Menorca, Irún y la comarca, Estambul y Pakistán. !Todo un carrusel de viajes de vacaciones y por trabajo en 5 semanas!
#ViajarYnoParar